Franciscan Family Child Care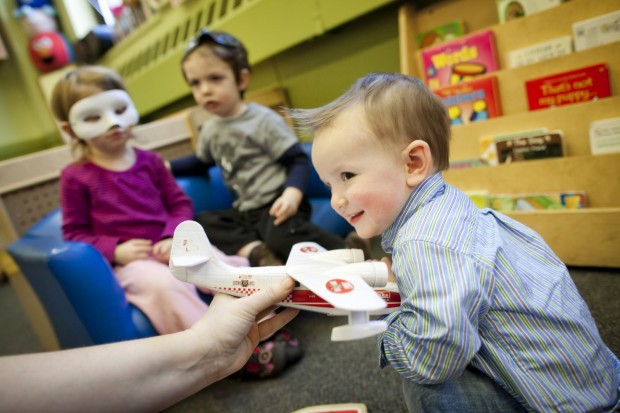 The Franciscan Family Child Care Center is located on our campus with ready access to Hospital resources as needed. The Center serves children ages 8 weeks – 6 years, regardless of race, sex, religion, cultural heritage, political beliefs or disability.
The Center originally opened to serve the child care needs of employees of Franciscan Children's, but in 1994, opened its services to all families. Today, we are proud to help children develop the skills they need to prepare for success in school and beyond, while supporting working families striving to balance the demands of work and family. All teachers are certified in First Aid and CPR, and are Criminal Offender Record Information (CORI) checked prior to hiring.
Classes are divided by age group, and curriculum varies based on the children's developmental stage.

Our Classes
The infant classroom accepts infants aged 8 weeks – 15 months. This classroom has a capacity of two adults per seven children. The daily routine is consistent, but also flexible given children's level of interest, individual needs and changes in weather. The infants will be fed on demand, put down to nap when they are tired and changed as needed. Here's what a typical day looks like:
7:00 – Opening and welcoming, toys and activities on rug
8:00 – Breakfast and bottles
8:30 – Play, interacting with teachers on rug, diapers
9:30 – AM nap
10:30 – Outside and/or indoor activities
11:30 – Lunch
12:30 – PM nap
2:30 – Outside play
3:30 – PM bottles
4:30 – Play and interacting with teachers on rug
5:30 – Homeward
The two toddler classrooms welcome toddlers aged 15 months – 2.3 years and 2.3 years – 3.6 years respectively. Each classroom has a capacity of two adults per every nine children. The toddler's daily schedule includes a variety of individual and brief group activities. This schedule is flexible and dependent upon changes in attention span and weather.
7:00 – Opening, welcoming, and playing with shelf toys
7:30 – Breakfast- early arrivals may bring a ready to eat breakfast.
(We suggest cereal, milk, granola bars and/or yogurt.)
8:00 – Manipulative, stories and interactive play with teachers
8:30 – Clean up – wash hands, change diapers/toileting.
9:00 – AM snack
9:30 – Circle time—brief song, story or finger play
9:45 – Activity (finger painting, water play, etc)
10:30 – Outdoor play, water play
11:30 – Lunch
12:30 – Wash, toileting, diapers and nap time
2:30 – Wake up, toileting, diapers, wash and p.m. snack
3:30 – Outside play
4:30 – Shelf toys, manipulatives
5:30 – Homeward
The Preschool/Pre-K classroom welcomes children who are 3.6 years  – 5 years. The classroom ratio is one adult per every 10 children. The preschool schedule includes more group play and opportunities for free choice amongst activity centers for an extended period as well as a  focus on Kindergarten readiness while being flexible and taking into account children's interests and attention spans.
7:00 – Opening, welcoming, and playing with materials available
7:30 – Breakfast – early arrivals may bring a ready to eat breakfast.
(We suggest cereal, milk, granola bars, or yogurt.)
8:00 – Choices of manipulatives and interest centers
8:30 – Clean up, toileting, and wash up
9:00 – AM snack
9:30 – Circle time – stories, songs, choices of interest, and special activities
10:00 – Choice time – children make choices of activities and interests, and may change their choice as space permits
11:00 – Outside play
11:30 – Lunch
12:00 – Toileting
12:30 – Rest time
2:30 – Wake up, toileting, wash up, and p.m. snack
3:00 – Afternoon choices, finish activities from morning if children wish
4:00 – Outside
5:00 – Inside, quiet stories, manipulatives
5:30 – Homeward
About Our Program
The program philosophy uses play as an educational tool. Children are viewed as individuals, and are provided with activities that can be approached from a variety of developmental levels. Creativity is encouraged through open-ended activities and materials, and children are encouraged to think and reason in order to expand their skills and abilities.  Children are able to take risks and experiment with materials in a safe, warm, and supportive environment.
Social skill development is a major part of the curriculum, and children are given the opportunity to participate in group activities or play alone.  In a group setting, children develop sharing and cooperative-play skills, as well as negotiate problems and solve difficult social situations with adult supervision and intervention, where necessary.
The family is an integral part of the program, and communication with parents is open and consistent. Parents and family members are encouraged to visit the classroom when they are able, provided it does not cause undo stress for the child. Family events and participation are a regular part of the program.
Where appropriate and feasible, children will be involved in the establishment of rules, policies, and procedures within the classroom. Preschool aged children, in particular, are able to understand the need for limits and rules in a way in which infants and toddlers cannot yet grasp. With this in mind, preschoolers may participate in establishing limits and rules for safe, productive play and use of materials in their environment.
Goals for children are based on their levels of development. There are, however, general goals for all children in the program. Some of these include, but are not limited to:
Children feel safe and loved in a supportive environment.
Children and families are treated with respect and nurturing care.
Children develop self-awareness and an awareness of others.
Children develop motor skills.
Children develop cognitive skills.
Children develop communication and language skills.
Children develop social skills.
Children begin to understand and express feelings and emotions.
Children's attempts at and developing-mastery of independence skills is encouraged.
A predicable routine is adhered to, giving children a sense of security and an understanding of what to expect.
Flexibility within routines allows for creativity, self-expression, and individual needs.
Individual schedules are respected.
Consistent, positive encouragement is utilized in communication.
Health standards are maintained to prevent the spread of infectious illnesses.
Curriculum is developed with flexibility to follow children's interest, and is relevant to their own life experiences.
Regular assessments of children's growth and development are made. Parents will be provided a conference time to discuss the assessment.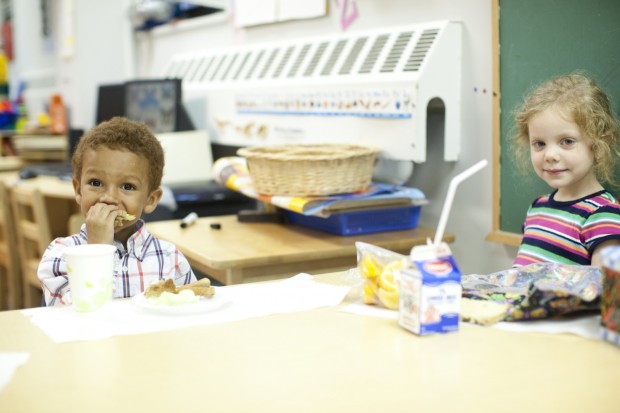 Families find the Franciscan Family Child Care a convenient option when searching for quality care in the Brighton neighborhood of Boston. The Center offers:
Care for children who are employees and non-employees of the Hospital
Onsite health care consultation
Full or part week enrollment
Meals and snacks at no additional cost
The convenience and safety of being onsite at a hospital for children
Direct access to an expansive play area
Accessibility by Public Transportation
Being onsite at the hospital is a resource to both employees and families in the community. Parents whose children attend the Family Child Care Center are assured that their child is always within very close proximity to urgent care. In cases of an emergency, nurses and doctors immediately respond to any needs that arise.
Outdoor space for leisure and play is another unique feature of the Franciscan Hospital for Children's campus. There are several playground equipment areas, each age-appropriately designed for toddlers and preschoolers. Children can run and get fresh air playing on the Wake Field, a four-season artificial turf field, and in the Summer, children enjoy splashing and playing in small outdoor pools. In addition to these play spaces, there are options for sitting, strolling, or enjoying a picnic lunch. Lastly, our low turnover rate for teachers is indicative of an ideal place to work, learn, and grow!
Don't just take it from us. Here's what some of our parents have to say:
"As a parent, one of the hardest things to do is leave your child/children in the care of another. I was put at ease the very first day, and our family has been with the daycare for over 6 years. My husband and I feel blessed to have found a daycare that has been such a positive experience all around."
"My daughter attended the Child Care Center at Franciscan for three years. As an infant, she was loved and well cared for each day. As a toddler, her developmental needs were met, and she flourished. Elizabeth looked forward to seeing her classmates and teachers every day. The day care staff was compassionate, friendly and took an interest in our entire family."
Download Student and Family Handbook (updated 2/2013)