Get Involved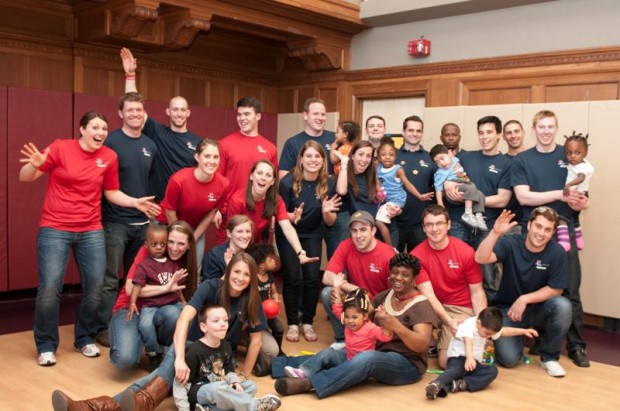 We welcome the involvement of individuals, corporations, and foundations wishing to collaborate with us to help children reach their potential. Depending upon your interest and level of commitment, friends of Franciscan Children's may wish to:
Leverage the our name by being a named corporate sponsor. Examples of collaborations with corporate partners have included research projects, new program implementations, and event partnerships. To discuss finding a sponsorship opportunity that meets your needs, please contact Chantal Brandimarte, Event Manager, at cbrandimarte@franciscanchildrens.org.
Franciscan Children's purchases many types of products and services as part of its operations. Many individuals and firms have offered these resources to the hospital, and in exchange, may receive a tax deduction. For more information about how to make an in-kind gift, please contact Andrea Kalsow, Advancement Associate, at akalsow@franciscanchildrens.org.
In-kind Gift Policy
 A gift-in-kind is a non-cash donation of a good or service. We accept gifts-in-kind that continue to support Franciscan Children's mission to provide a compassionate and positive environment where children with complex medical, mental health and educational needs receive specialized care from people who are committed to excellence, innovation and family support… so that children can reach their fullest potential and live their best life.
It is the sole responsibility of the donor to determine the value of a contributed item; the receiver cannot assign a value to the donated item(s). The IRS has specific regulations regarding gifts-in-kind. For more information on Franciscan Children's policy for accepting gifts-in-kind, please contact Andrea Kalsow, Advancement Associate, at akalsow@franciscanchildrens.org.
In regards to the Franciscan Children's Holiday Drive, all items must be new and all books must be wipe-able with appropriate language.
We recognize your time is valuable. Friends of Franciscan Children's may wish to volunteer as part of a corporate community day, or complete an organized one-time event, like hosting a holiday party for patients. For more information, please contact Chantal Brandimarte, Event Manager, at cbrandimarte@franciscanchildrens.org.
The Board of Overseers of Franciscan Children's is a non-governing affiliate board whose purpose is to support the mission of the hospital through philanthropic support and broadening its circle of influence. Click HERE for more details.
To get involved or learn more, please contact Chantal Brandimarte, Event Manager, at cbrandimarte@franciscanchildrens.org. or (617)-779-1159.
Current members include:
Executive Directors 
James McSweeney
Jonathan T. Parkhurst
Kate Sheridan
Meghan Montgomery
Members
Allison Whitmore
Barbara Gian
Dan Marous
David H. Friedberg
David Jarmel
Emiley Lockhart
George Regan
Jason Costello
Jean Barrett
John D. Nash
Joseph R. Fratus
Kerry Collins
Kenneth Ryvicker
Kevin G. Honan
Kristen Walsh
Lisa Fulchino
Mark Hannon
Michael A. Sullivan
Michael J. Moran
Michael Kelly
Nina Capeles
Robert B. Needham
Robert Sheridan
Ryan Wittig
Steven A. Tolman
Todd Harris
The Emerging Leaders is a group of young professionals dedicated to advancing our mission. There are many ways to get involved with our Emerging Leaders.
Become an Emerging Leader Advocate: Our Emerging Leader Advocates are members of the community who attend the group's four main events throughout the year and encourage their friends and colleagues to do the same.
Join the Emerging Leaders Leadership Council:  These members attend the group's four main events each year with friends and colleagues, attend Franciscan Children's signature events as representatives of the Emerging Leaders, and help the Executive Board in planning Emerging Leaders events and activities.
Emerging Leaders Executive Board: This group consists of the Board's Chairman, Communication Chair, and Event Chair.  These members are highly involved in every aspect of the Emerging Leaders operation and communication with our internal team at Franciscan Children's.
If you are interested in joining our Emerging Leaders please contact Chantal Brandimarte, Events Manager at (671) 779-1159.
Executive Board
Board Chairman: Nick Dougherty
Communication Chair: Christina Strubbe
Event Chair: Josie Reinhardt
Advocates and Leadership Council
Betsy Ellsworth
Christopher Ciampa
Jennifer Atlas
Robert Schultz
Steven Brandimarte
A breakup, final exams and a fight with her parents were enough to send AMY into an emotional tailspin. Her low self-esteem and undiagnosed depression compounded every issue. Her parents were concerned. Despite going to great lengths to try to help, their daughter was withdrawing from social activities. Her friends' reactions only added to the emotional turmoil she felt. The only answer to her pain appeared to be suicide, the step she thought she had to take. Fortunately for AMY, before making that devastating choice, help was within reach.
Throughout its history, Franciscan Hospital for Children has evolved to meet the changing needs of youth. When it comes to behavioral health, our aim is to provide the right level of care at the right time, whether it is prevention, intervention, or support during a crisis. Working in partnership with McLean Hospital and other first class institutions, our care has been recognized for excellence. Franciscan Hospital for Children is a rehabilitation hospital located in the Brighton neighborhood of Boston.
These difficulties cross all boundaries of gender, class and race. AMY is your neighbor, your student or your son's friend. She is the young woman alone at the park, the child being bullied on the sports field or the child with special needs who doesn't seem to fit in. She is both an individual and one of many; she is Any Modern Youth.