Medical Rehabilitation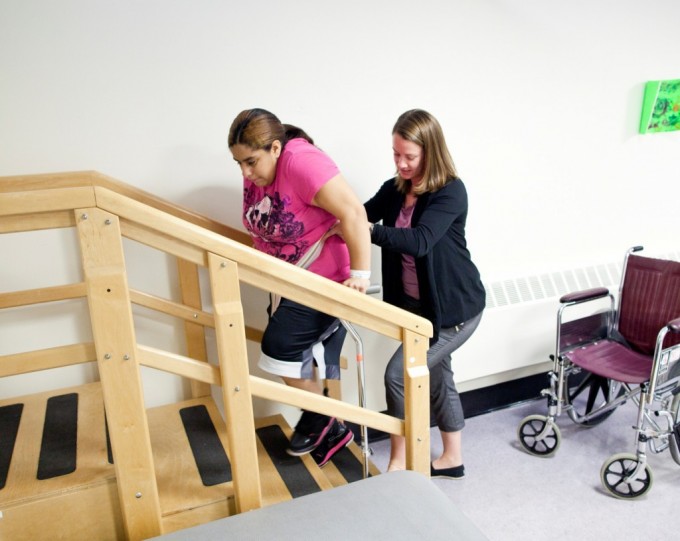 The Medical Rehabilitation Program serves children, from infants to young adults, on an inpatient basis as they recover from illness or injury. As the largest dedicated pediatric rehabilitation center in New England, the Medical Rehabilitation Program embraces the child as a whole, and addresses their full spectrum medical, therapeutic, social, and emotional needs. Our program promotes social development and emotional well-being by incorporating frequent opportunities for age-appropriate play and leisure activities throughout the child's stay and rehabilitation process.
About Our Program
Franciscan Children's staff are child-centric in their approach to rehabilitation. The hospital serves children of all abilities from the New England region, the nation, and around the world.
Some children have been involved in accidents, while others have medical illnesses that require rehabilitation services. Patients are transferred from acute care hospitals when it is appropriate for the focus to change from medical management to more intensive rehabilitative efforts. Typical conditions that children in this program might have include:
Traumatic brain injury
Stroke
Brain tumors
Spinal cord injury
Orthopedic conditions
Encephalitis
Meningitis
Myelodysplasia
Neuromuscular conditions
Seizure disorders
Spina Bifida
The Pediatric Rehabilitation Program at Franciscan Children's cares for children and teens who have complex injuries or significant disabilities or who are recovering from major surgery.
We provide intensive inpatient rehabilitation most often for the following conditions and after the following procedures:
Brain injury and related neurotrauma
Spinal cord injury and related neurotrauma
Cerebro-vascular accidents (stroke, arterio-vascular malformations (AVMs), aneurysms of the brain and spinal cord)
Multi-trauma
Major orthopedic surgery
Meningitis, Encephalitis, Guillain-Barre, Transverse Myelitis, and related infectious and autoimmune diseases of the brain, spinal cord, and nervous system.
Selective Dorsal Rhizotomy (SDR) surgery
Led by a Board-certified specialist in Pediatric Rehabilitation Medicine, our program involves specialists from a wide variety of disciplines. You can explore what a comprehensive team of experts for a patient undergoing intensive inpatient care often looks like by visiting our Caregiver Guide here.
Franciscan Children's is one of the top providers of pediatric inpatient rehabilitation care in the Northeast.
We are certified by the Joint Commission on Accreditation of Health Care Organizations (JCAHO), and in 2012 were recognized as a top performer in key quality measures.
Our inpatient rehabilitation program is directed by a board-certified pediatric rehabilitation medicine specialist, and all medical and therapeutic care is provided by pediatric-specialized practitioners, with a board-certified pediatrician in-house 24/7.
Nursing plays an integral role in providing around the clock care and medical management for children who need varying levels of support.
Whenever possible, the same staff members follow each child from admission through discharge, so that the child, family, and care team have an opportunity to build rapport. This approach also helps promote optimal communication; contributing to more effective treatment.
Family-centered, individualized care.
Our patients and their families are integral members of our interdisciplinary team, working together to address all areas of the child's medical, physical, cognitive, and social functioning.
Our program promotes social development and emotional well-being by incorporating frequent opportunities for age-appropriate play and leisure activities throughout the child's stay and rehabilitation process.
Our facility is designed specifically for technologically advanced care of children and teens that have disabilities and complex injuries, all in a kid-friendly environment.
We offer extensive family services such as family lounges with refrigerators, microwaves, and coffee makers.
We are located in a tree-lined neighborhood that offers all the amenities of the city, such as local restaurants, banks and other services, without the stress of traffic and parking hassles. Parking is free and unlimited – come and go as often as you need to!
Children and families benefit from scheduled events that encourage interaction, participation, and socialization. Check out our monthly event calendar, hosted on our Child Life page.
For details about this program, please contact Jeffrey L. Forman, M.D., Director of Rehabilitation Medicine at (617) 254-3800, ext. 4446.
Contact Now