Outpatient Mental Health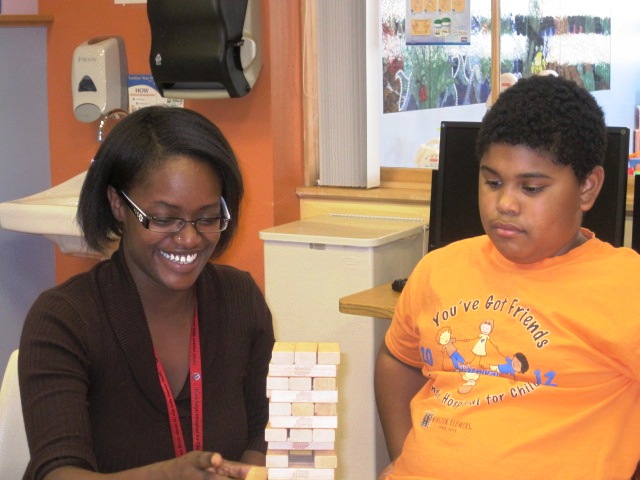 Franciscan Children's team of psychiatrists, developmental pediatricians, psychologists, neuropsychologists, and social workers specialize in the evaluation and treatment of children with neurodevelopmental disabilities, seizure disorders, traumatic brain injuries, psychiatric disorders (such as mood disorders, anxiety, and Post-traumatic Stress Disorder), learning difficulties, and behavioral challenges.
We work together to provide comprehensive outpatient mental health services to the community and local schools, and we strive to integrate our services into a meaningful therapeutic environment for each child and family. We also have a close liaison with local pediatricians and pediatric neurologists, along with laboratory accessibility, for all medical involvement.
Through the quality of care we provide, we aim to respond to all the needs of our patients in a respectful and dignified atmosphere.
About Our Program
Services available:
Counseling
Developmental Pediatrics
Expressive Therapy
Group Therapy (Lego-based Social Skills Club)
Medication Evaluations
Neuropsychological Evaluations
Psychiatry
Psychological Evaluations
School Based Programs
The Multidisciplinary Evaluation Program is a comprehensive outpatient evaluation service intended to assist children who are experiencing developmental, learning, behavioral, and emotional problems at home, in the classroom, or in the community. Based upon input from parents, physicians, teachers, or other caretakers, a series of assessments are completed by a team of pediatric specialists. Evaluations are available in a multitude of disciplines.
Franciscan Children's offers neuropsychological and psychological evaluations as part of the Multidisciplinary Evaluation Program. A neuropsychological evaluation, specifically, involves the assessment of how behavior and skills are related to brain structures and systems. During the course of a neuropsychological evaluation, areas such as cognition, language, visual spatial/perceptual motor, memory, executive function, and neurobehavioral status are tested objectively. In contrast, a psychological evaluation is intended to assess a child's cognitive abilities, along with mood and social/emotional functioning.
As part of either evaluation, a careful history of the child's developmental, medical, psychological, educational, and social history is obtained from the parent(s) or caregiver(s). The clinician will then meet with the child to conduct the evaluation over the course of one or two days, depending on the needs of the child. Following the evaluation, the clinician will use all of the information he or she has collected to identify the child's areas of strength and weakness, and present a comprehensive summary of the child's overall functioning in the specified areas. Classroom and treatment recommendations are provided to help parents, schools, and physicians gain a better understanding of the child's needs.
APA – Accredited Doctoral Internship in Clinical Psychology
The mission of the Franciscan Children's Psychology Internship Program is to prepare doctoral students for competent practice of the profession of psychology in a variety of health care, behavioral health, and educational settings. Training focuses on service delivery, ethics, and sensitivity to individual and cultural differences. Current research findings and health care delivery trends are also included in the program.
Questions related to the program's accredited status should be directed to the Commission on Accreditation:
Office of Program Consultation and Accreditation
American Psychological Association
750 1st Street, NE, Washington, DC 20002
Phone: (202) 336-5979 / E-mail: apaaccred@apa.org
Web: www.apa.org/ed/accreditation
Training Staff
Mary Ann Mullin, Ph.D. –is the Director of Behavioral Health and the Director of Training for the Internship Program. Dr. Mullin is a licensed psychologist who provides therapy services to children, adolescents, adults, and families, along with supervision to the staff and interns.
Elizabeth Baker, Ph.D. –is a licensed neuropsychologist who supervises the interns and runs the weekly neuropsychological assessment seminar. She has experience working with brain injured and medically impaired children, as well as children with learning and memory disabilities.
Fatima Watt, Psy.D. –is a licensed pediatric psychologist on our Medical Units and Behavioral Health Services. On the Medical Units, she provides a range of therapeutic services to children and families, consultation with other disciplines, and individual supervision to the medical intern. She also conducts individual, family, and group therapy in the outpatient department, as well as psychological and neuropsychological assessments.
Kiera Boyle, Psy.D.—is a licensed psychologist based in Behavioral Health Services. She conducts psychotherapy and psychological testing with children and adolescents, and also provides clinical supervision for our psychology interns.  Her experience has included working with survivors of trauma, students in a therapeutic school setting, LGBTQ individuals, and using play therapy with young children.
Gregory Young, Ph.D., LABA, BCBA – Is a licensed psychologist and behavior analyst in Behavior Health Services and the Kennedy Day School. He works as part of the medical units, supporting the rehabilitation team by improving patient's motivation and helping to reduce the occurrence of problem behaviors. Additionally, Dr. Young provides behavioral consultation to the Kennedy Day School. He has specific interest in working with individuals with developmental disabilities and co-occurring complex medical conditions.  He has experience with severe problem behavior reduction, medical desensitization, pediatric sleep disorders, and a specialization in Applied Behavior Analysis.
2017 – 2018 Psychology Internship Program Outline

Most private insurances accepted. Medicaid and Massachusetts Health accepted. Interpreter Services Available.
Specialty Groups
Summer Support Group for parents with anxious children
3 Sessions Offered | July 2017
February – April 2017 (excluding school vacation)
•(3) hour and a half groups
•Groups may happen in the early evening, 5-6:30PM on Mondays, or during the day on Monday or Tuesday. Time determined by participant availability.
•Group will begin the week of 7/10
This group is for parents and guardians of Elementary and Middle School students who are or have been in treatment for anxiety.
Learn how to manage your own anxiety, how to support your child in facing their anxiety, as well as strategies to improve your child's ability to cope with their anxiety effectively.
Facilitated by Gail Kemp, MA, and Julie Ogletree, LICSW
Both Ms. Kemp and Ms. Ogletree are experienced clinicians who have worked in schools and outpatient settings helping parents and children with anxiety, depression and other emotion dysregulation challenges.
To participate, please contact:
Julie Ogletree, LICSW
617-254-3800 x1296
JOgletree@FranciscanChildrens.org
(Deadline is 6/28)
Intake and screening are required to participate.
Download the Summer Support Group flyer here.
Additional Contact Information
Mary Ann Mullin, Ph.D.,
Director, Behavioral Health Services
(617) 254-3800, ext. 3030
To make a referral, please call (617) 254-3800, ext. 3141. Clinicians will return telephone calls and schedule the first appointment after the initial referral information is gathered.
Contact Now