Our Blog
Kennedy Day School Lemonade Stand:
Project Launch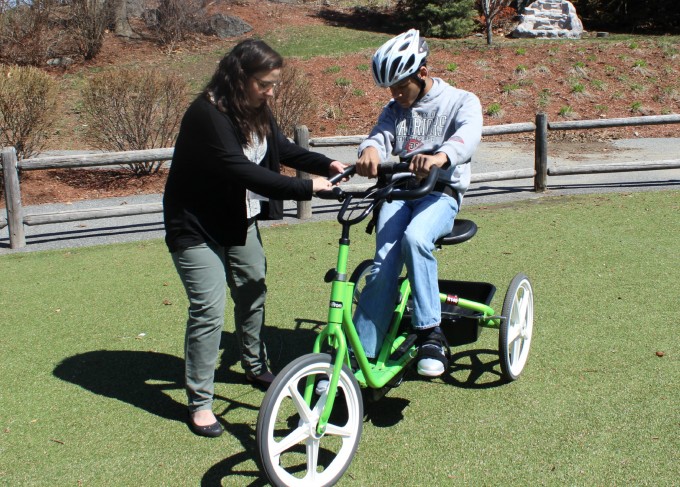 At the Kennedy Day School (KDS) our teachers and staff are continuously looking for ways to expand our programs and the experiences of our students. Our Project Excel program offers a variety of vocational opportunities for students ages 14 and older, providing realistic and positive learning experiences in a work environment.
Each summer Franciscan Children's hosts adaptive sports camps for children from the local Boston community and beyond. Last year, inspired by his own experience at Bike Camp, one of our campers created Bug's Bikes so that his friends would have an opportunity to experience the same joy of riding a bike. What began as a lemonade stand started by a courageous five-year old, Bug's Bikes has grown into an official non-profit organization that helps fund adaptive bikes for children.
In collaboration with Bug's Bikes, our Kennedy Day School Project Excel students and staff are opening a Lemonade Stand!
From building to decorating, designing advertisements to squeezing lemons, our students will assist in all aspects of this project. The Kennedy Day School is thrilled to be home to the first Bug's Bikes Lemonade Stand in a school setting, providing our students with the opportunity to learn valuable skills while serving others. Further, the money raised from the opening of the lemonade stand will be used to purchase an adaptive bicycle for a KDS student!
Follow along with our lemonade journey here on the blog as our plans progress and our lemonade business begins to unfold.
Part 2 | Kennedy Day School Lemonade Stand: The Building Process

Part 3 | Kennedy Day School Lemonade Stand: Taste Testing
Part 4 | Kennedy Day School Lemonade Stand: Pour the Lemonade!
View All Blog Stories