Our Blog
Kennedy Day School Lemonade Stand: Pour the Lemonade!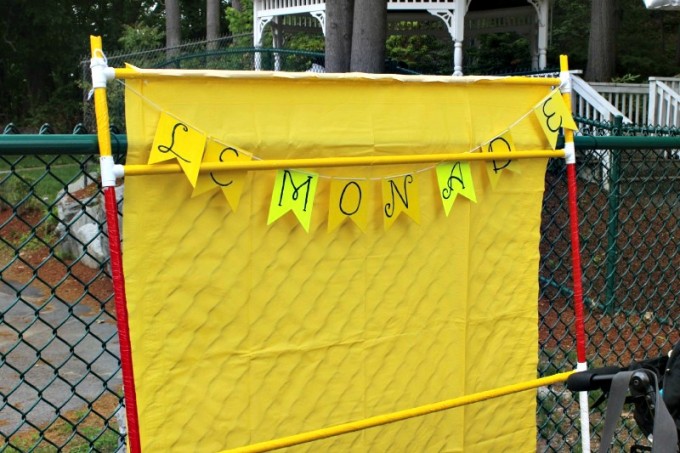 With Lemonade Stand construction and official taste-testing complete, it was time to move on to the final phase of our project – an official unveiling of the new stand and pouring of our first glasses of lemonade!
Earlier this summer, Kennedy Day School (KDS) parents met with Bonnie Paulino, Program Director, to learn more about adapted recreation. Joined by Maria Fragala-Pinkham, PT, DPT, MS, Director of Adaptive Sports, families were presented with information about adaptive bikes and other adaptive recreation opportunities available for children and families in the greater Boston area.
Additionally, parents were able to meet Kelly De Angelis and her son, Steven (Bug), the founders of the Bug's Bikes Foundation. Both Kelly and Bonnie were able to speak to the collaborative effort the Lemonade Stand has represented, and how students in the Project Excel vocational program have both built and strengthened valuable skills while raising funds to benefit adaptive recreation opportunities for their peers.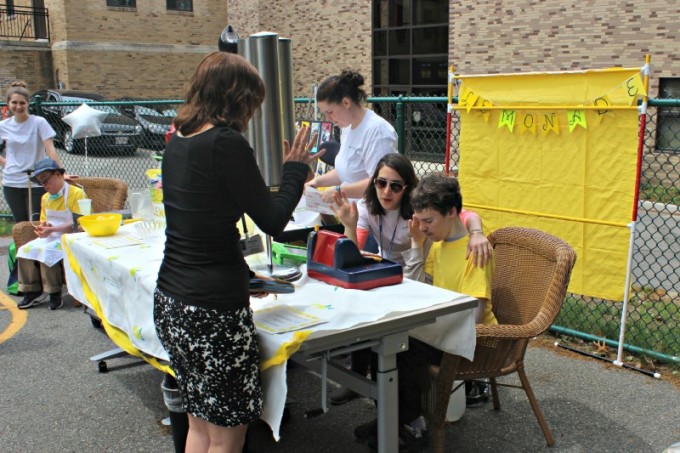 Meanwhile, Project Excel students and staff set up the newly completed Lemonade Stand, ready to host their first customers! Families, staff, and friends of the Kennedy Day School attended the Stand's ribbon-cutting, and students excitedly welcomed the arrival of their first patrons. The initial nerves over the threat of rain soon disappeared as guests continued to line up for a fresh taste of summer and the clouds held off.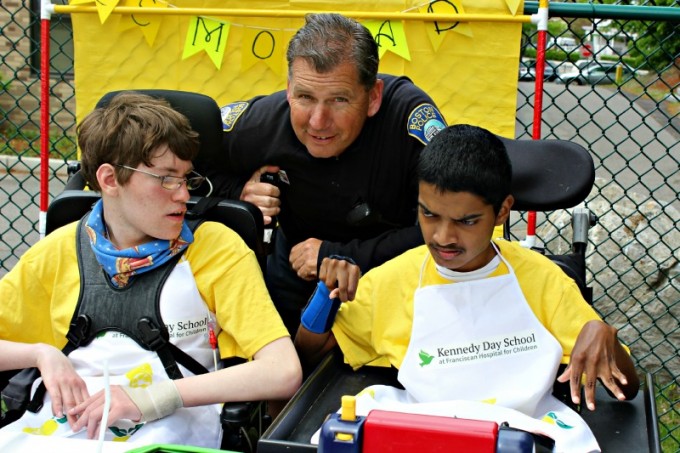 Throughout the morning, students and guests also had the chance to meet a special visitor from our friends of the Brighton Police Bike Unit. Officer Joe Coppinger circled the scene on his bike, interacting with our community and friends who were grateful to meet him and for his taking the time to join the fun!
Our Lemonade Stand project has been a wonderful experience from start to finish for everyone involved. The kick-off party sold nearly 60 cups of lemonade, and to-date $350.00 has been raised for Bug's Bikes through the project – money that will ultimately fund an adaptive bicycle for a Kennedy Day School student to be selected as the project continues.
The Stand has been open within the Kennedy Day School for Franciscan Children's and KDS staff and guests to enjoy on various occasions, and while school is winding down for a summer break we look forward to re-opening in the fall.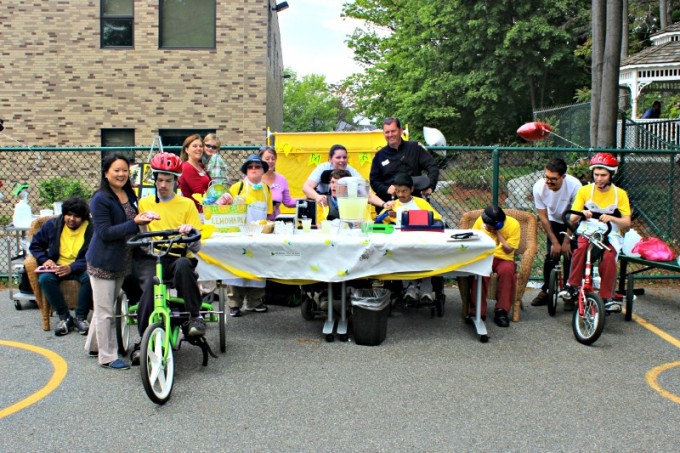 Cheers to a fun project, a refreshing summer, and many more glasses of lemonade to come!
Part 1 | Kennedy Day School Lemonade Stand: Project Launch
Part 2 | Kennedy Day School Lemonade Stand: The Building Process

Part 3 | Kennedy Day School Lemonade Stand: Taste Testing
Part 4 | Kennedy Day School Lemonade Stand: Pour the Lemonade!
Interested in learning more about adaptive recreation opportunities? Please click here.
View All Blog Stories