Our Blog
Meet our Team: Maria, Mental Health Specialist
At Franciscan Children's, Mental Health Specialists provide support and services to children, adolescents and teens experiencing mental health issues. The McLean Franciscan Child and Adolescent Inpatient Mental Health program (Unit 1) is a place for hope and healing for children in psychiatric crisis, offering expert crisis stabilization, assessment, and inpatient mental health treatment in a safe and nurturing environment. To contact our Unit 1 24-hour referral line, please call please call (800) 333-0338.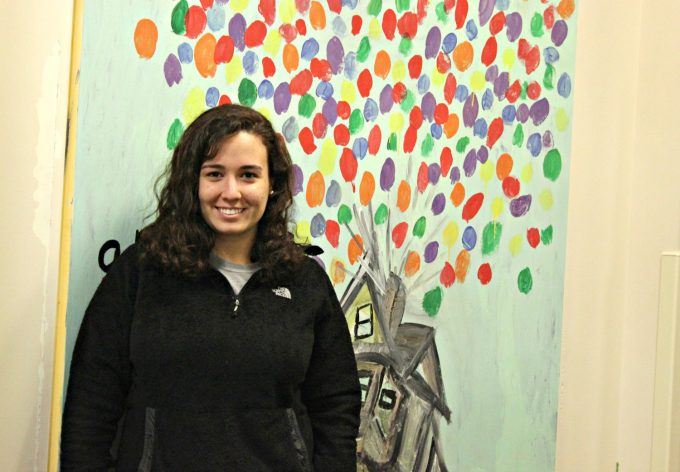 Maria Bravo-Castano has been a Mental Health Specialist on Unit 1 for almost two years. After graduating from college, Maria says that she knew she wanted to work in health care. Her passion to ensure that mental illness is taken as seriously as other illnesses prompted her to pursue a career focusing on mental health.
In honor of Mental Health Month, we asked the Franciscan Children's leadership team about staff in our Mental Health programs who are making an impact on the patients that we serve. Maria's name popped up instantly as an invaluable member of the team, and when we asked our patients about Maria, their responses were even more overwhelming.
"We need more Marias in the world. She's selfless, genuine and has a great smile," said one patient.
"She's very supporting, and you can just open up to her," said another.
"She's just a caring, soothing person," responded another.
Maria responded to her patients' kind compliments with a gentle smile and a show of gratitude, "Some people just need to be shown how to cope with mental illness. [The staff at Franciscan Children's is] here to support and help during a crisis."
"Maria is always dependable; willing to do whatever is needed on the Unit and not afraid to laugh at herself.  Despite being one of the quieter staff, our patients love Maria's kind and gentle approach and know that she is there for them," says Juliette Noonan, RN, Unit 1 Nursing Clinical Coordinator. "The groups she leads are enjoyed by patients and staff alike for being both fun and including practical life skills.  She welcomes families to the Unit and reassures them that everything is going to be alright."
When you first meet Maria, you might mistake her as shy. However, her quiet approach to life is welcoming, reassuring and instantly friendly. She projects a sense of peace in conversation and in dealing with the demands of her job.
"It's hard, at first, working [in Unit 1], but I just think what it must feel like to be in [our patients'] shoes," says Maria.
Maria says that the first thing she does when she meets a new patient is to tell a story about herself and then ask the patient to do the same to break the ice. She also rarely uses the word "patient." Instead, she says "person."
"It takes a while to know a person and talk about difficult things, but somehow it seems easy for them to talk to me," says Maria, who is humble about the ease in which she communicates with patients and families. "We acknowledge the awkwardness of the situation, put rules in place, set limits and try to make it the best possible situation so they (new patients) feel support."
Maria's favorite method of support is simply hanging out with the kids. She loves watching movies with them, playing card games, talking in groups and joking around. But whatever she is doing, Maria is always looking for the best activity that offers patients the ability to engage and to cope.
"We don't expect the kids to love it here, but we can create a calm and safe environment," says Maria. "We just want to provide a peaceful community that is open, accepting and sensitive."
Most of our patients feel thankful to be at Franciscan Children's, but some think it's a punishment or that they did something wrong or shameful when they arrive, explains Maria. Whatever the case, Maria tells patients that they are worthy and deserving of help and health care. Just like health care addresses other organs and parts of the body, Maria tells patients that their brains and mental health are just as important.
"Mental illness is complicated, and our brains are the most complicated organs. The biggest misconceptions are that people can push mental illness away, push through it, or that they just create it (mental illness) for attention," said Maria about decreasing the stigma surrounding mental health.
According to Maria, teens are in critical need of mental health services. She says that teenagers are a tough population to serve due to the simple fact that the teenage years are often some of the most difficult. Maria addresses those difficulties by providing a listening ear and by taking all perspectives seriously while offering different opinions and points of view.
"Maria's calm sense of confidence facilitates a positive environment for kids, families and staff members on Unit 1," said Meaghan Beatty, RN, Unit 1 Nursing Clinical Coordinator. "It's easy to see that she actively enjoys doing therapeutic activities with children- her positivity is reflected in her excellent relationships with both patients and staff members."
"On the Unit, we might not agree all the time, but there is so much respect, and it makes me happy to see my co-workers," says Maria. "Some of us are strict. Some are softies. We complement and support each other well."
Maria's experiences at Franciscan Children's are prompting her to consider applying for a Master's degree in neuropsychiatry in the hope of becoming a psychologist, but she says that she truly enjoys being a Mental Health Specialist. She hopes that sharing her experiences working in Unit 1 will help recruit others to work with us as we continue to provide mental health services for children in the area.
"This field needs people who are empathetic and caring," says Maria, who has a psych background but says it isn't necessary to be a Mental Health Specialist. "Anyone who's creative and pushes people to be creative is a good fit."
Thank you, Maria Bravo-Castano, for creating a sense of community and for providing support for our patients, their families and our team!
Maria is one of our many compassionate, positive Mental Health staff members. We're proud to celebrate Maria and her colleagues not only during Mental Health Month, but year round. It's their commitment to providing excellence in care in a compassionate and positive environment that supports our unwavering commitment to helping children live their best life. Please join us in celebrating the invaluable work Maria and her colleagues do by following us on Facebook, Twitter, and Instagram during Mental Health Month and sharing the facts and stories that resonate with you. 
There is a simple, quick, and anonymous way to check in on the mental health of you or a loved one. Take a screening here.
View All Blog Stories