Our Blog
Meet our Team: Ryan, Mental Health Specialist
At Franciscan Children's, Mental Health Specialists provide support and services to children, adolescents and teens experiencing mental health issues. The McLean Franciscan Child and Adolescent Inpatient Mental Health program (Unit 1) is a place for hope and healing for children in psychiatric crisis, offering expert crisis stabilization, assessment, and inpatient mental health treatment in a safe and nurturing environment. To contact our Unit 1 24-hour referral line, please call please call (800) 333-0338.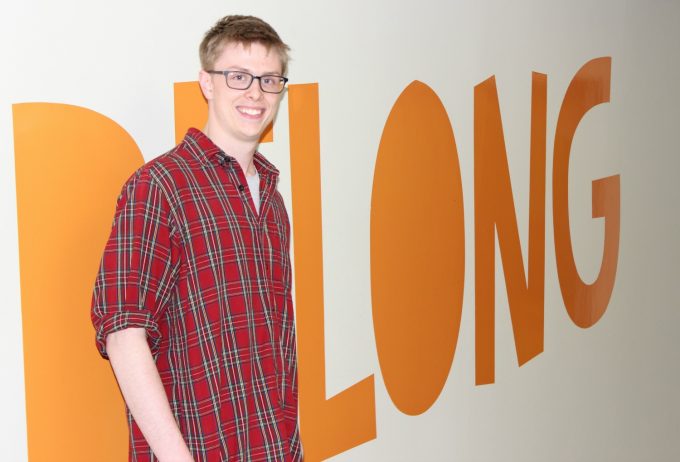 "Fun" isn't a word often associated with the treatment of mental health issues. Yet, it's a word that we heard from many of our patients in our Child and Adolescent Inpatient Mental Health program (Unit 1) who were asked to describe Mental Health Specialist Ryan Ward.
"He's strict, but not too strict. He keeps us safe and in line, but he's not a party pooper."
"He can do anything and make it fun."
"Even if patients throw things at him, Ryan finds a way to keep it positive."
Ryan Ward has been a Mental Health Specialist on Unit 1 for almost two years, providing individual and group support to children, adolescents and teens experiencing mental health issues. Ryan grew up in Maine with parents who encouraged him to volunteer in service roles at an early age. After graduating from Wheaton College with a bachelor's degree in psychology, Ryan knew he wanted to find a career where he could use his education and philanthropic background to give back.
"I just find it really rewarding," said Ryan about finding Franciscan Children's and becoming a Mental Health Specialist. "It's something that I could do every day and be proud of it. Honestly, it's just fun."
Ryan says that the role of a Mental Health Specialist requires someone who is adaptable, hopeful and optimistic with good interpersonal skills. Having all of these qualities is something that sets Ryan apart, according to Unit 1 leadership.
"Ryan's interactions with kids of all ages demonstrate his unique way of using humor and play to build rapport, while still showing empathy and taking their concerns seriously," said Meaghan Beatty, RN, Unit 1 Nursing Clinical Coordinator. "He takes time to learn about each child's individual interests."
"My favorite things to do with the patients are taking them outside to play or throw a football, playing charades or playing cards on the Unit," laughed Ryan. "I'm just very energetic and able to talk with them. I think just being supportive and present is what matters."
Working with adolescents is important to Ryan. He recognizes their need to have deep conversations about often difficult topics, and he wants to continue working with this population as he furthers his career and considers going back to school to obtain a Doctor of Psychology (Psy. D.) degree. He credits much of his inspiration to the culture of Unit 1 and the chance to work with so many amazing colleagues.
"Dealing with patients in crisis is difficult, but the best thing is the group of staff here. They are a support network and are good at knowing when to switch staff to work with each patient," said Ryan.
Ryan believes that the encouraging environment and community culture created in Unit 1 is what leads to a better recovery for patients. According to Unit 1 leadership, Ryan plays a big part in cultivating the cooperation between patients and staff to improve communication and engagement.
"Ryan is always a positive light on the Unit," said Juliette Noonan, RN, Unit 1 Nursing Clinical Coordinator. "Whether he is helping patients get towels for a shower or calming a patient after a difficult meeting, he is present in the moment and able to meet patients where they are emotionally. He offers a great mix of being both silly and professional at the same time, and the patients love him. Ryan does a great job engaging patients in various coping skills, helping them to recognize it is okay to be in the hospital and okay to need help."
Ryan believes that reducing the stigma surrounding mental illness and breaking down barriers is important in order to show patients that getting treatment is okay. He hopes that, as more people share their stories about mental illness, it will inspire others to seek help.
"When you leave the Unit, you're not cured," said Ryan who hopes that resilience is one of the main takeaways for patients as they leave Unit 1. "We're teaching you coping skills for life."
During Mental Health Month, Ryan suggests that all people should surround themselves with good, supportive people and take time for themselves through an activity like meditation, reading or ultimate Frisbee…one of his favorites.
Thank you, Ryan Ward, for providing hope, support and positivity for our patients, their family members and the staff at Franciscan Children's. We appreciate you!
Ryan is one of our many compassionate, positive Mental Health staff members. We're proud to celebrate Ryan and his colleagues not only during Mental Health Month, but all year round. It's their commitment to providing excellence in care in a compassionate and positive environment that supports our unwavering commitment to helping children live their best life. Please join us in celebrating the invaluable work of Ryan and his colleagues by following us on Facebook, Twitter, and Instagram during Mental Health Month and sharing the facts and stories that resonate with you. 
There is a simple, quick, and anonymous way to check in on the mental health of you or a loved one. Take a screening here.
View All Blog Stories