Our Blog
Meet our Team: Devin, Residential Counselor
At Franciscan Children's, our Residential Counselors provide direct support to children experiencing behavioral and emotional  difficulties in our Community Based Acute Treatment Program (CBAT),  an intensive, short-term, acute residential unit for children and adolescents. Often, the CBAT program is used as a diversion or step-down program to an inpatient hospitalization. To contact our CBAT 24-hour referral line, please call 617-659-5087.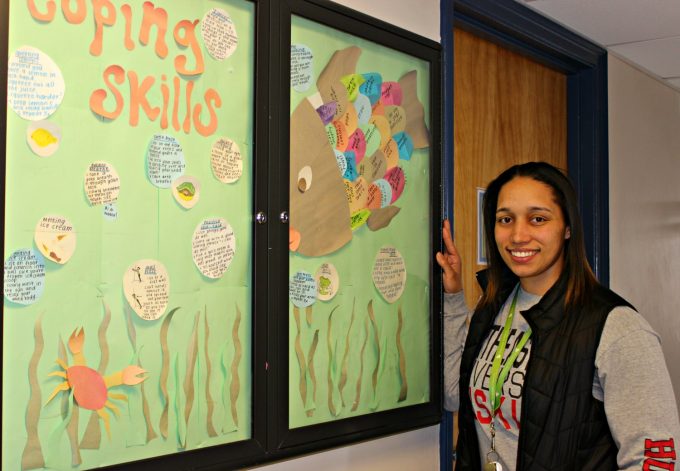 Devin King-Pierre likes to be active. Pulling double duty as a personal trainer and a Residential Counselor in our Community Based Acute Treatment (CBAT) Program doesn't faze Devin at all. She works with four to 14 year old children and adolescents in CBAT every day, and she credits her instruction as an athletic trainer for keeping her on her toes.
"I love to be active and do group games with the kids to introduce the concepts of sportsmanship and taking turns," said Devin, who prefers to take patients outdoors for activities whenever possible. "You can learn a lot from a simple game of kickball."
Devin has been playing games with our patients in CBAT for almost two years now, despite this being her first job in the mental health arena. A Cambridge native, Devin didn't know much about Franciscan Children's before she came to work with us. However, she's found quite a home in CBAT with colleagues that she describes "like family."
"This job can be stressful, but I don't feel stressed at work," said Devin. "The staff here are supportive, and sometimes we can just look at each other and expect something and not even say it."
As a Residential Counselor, Devin works with patients in CBAT to better communicate in a home-like environment, in school and in public. She said that she helps patients identify and address their stressors in order to better cope when they return home. According to one of the patients that Devin works with, that might mean a simple conversation.
"Devin is fun and really nice. We talk and take walks together to the vending machine and the kitchen," said the patient who enjoys her time with Devin in CBAT.
Devin said that she enjoys her time with the patients too, and she knows that they often look at her reactions in times of stress to learn how to manage their own emotions. Along with sports, one of Devin's favorite ways to connect with patients is through art.
"We'll use putty to describe an object or shape, and that benefits conversation and communication skills," explained Devin. "We also do a lot of drawing to clear our minds."
Devin said that Residential Counselors can have a variety of experiences and skills that would be beneficial to the children that we serve in CBAT.
"We're constantly looking at what makes people unique and how we can bring that to our work to help the kids," said Devin. "Are they (new colleagues) artistic? Do they like music? Are they athletic? It's all great."
Colleagues agree that Devin is "great" at her role as a Residential Counselor, providing constant support and respect whether playing games or practicing manners during family-style dinners.
"Devin brings a calm and positive outlook to every interaction with our kids," said Lianna Burton, CBAT Program Manager. "Though she was new to mental health when she started at Franciscan, she has really embraced learning new concepts and interventions to support the kids and the program."
"She is happy, and she just makes me smile," said a patient.
Devin, thank you for making all of us smile! Your dedication to our mission and to mental health services at Franciscan Children's is extraordinary.
Devin is one of our many compassionate, positive Mental Health staff members. We're proud to celebrate Devin and her colleagues not only during Mental Health Month, but all year round. Their commitment to providing excellent care supports our unwavering commitment to help children live their best life. Please join us in celebrating the invaluable work of Devin and her colleagues by following us on Facebook, Twitter, and Instagram during Mental Health Month and sharing the facts and stories that resonate with you. 
There is a simple, quick, and anonymous way to check in on the mental health of you or a loved one. Take a screening here.
View All Blog Stories