Our Blog
Meet our Team: Kat, Residential Counselor and Supervisor Team Lead
At Franciscan Children's, our Residential Counselors provide direct support to children experiencing behavioral and emotional difficulties in our Community Based Acute Treatment Program (CBAT), an intensive, short-term, acute residential unit for children and adolescents. Often, the CBAT program is used as a diversion or step-down program to an inpatient hospitalization. To contact our CBAT 24-hour referral line, please call 617-659-5087.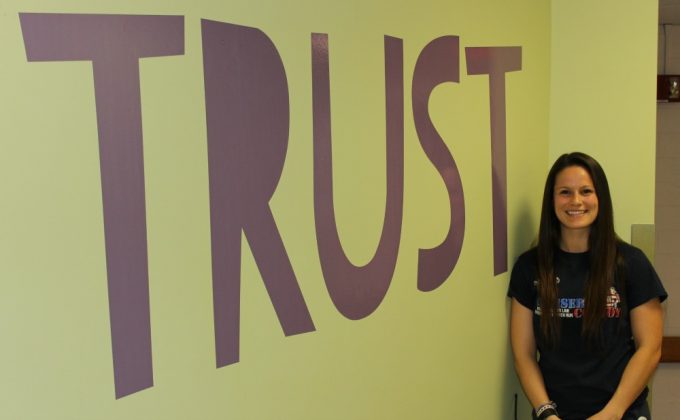 Katharine (Kat) Cote works days, nights and weekends as a Residential Counselor and Supervisor Team Lead for our Community Based Acute Treatment Program (CBAT) to help children and adolescents facing mental health challenges.
According to patients and staff, you can often find Kat in the hallways laughing and making friendship bracelets. Bracelet making is a method that Kat uses with all ages to connect and cope.
"She's so nice," said one patient who works with Kat regularly. "She's really helpful, and she looks out for people and makes bracelets."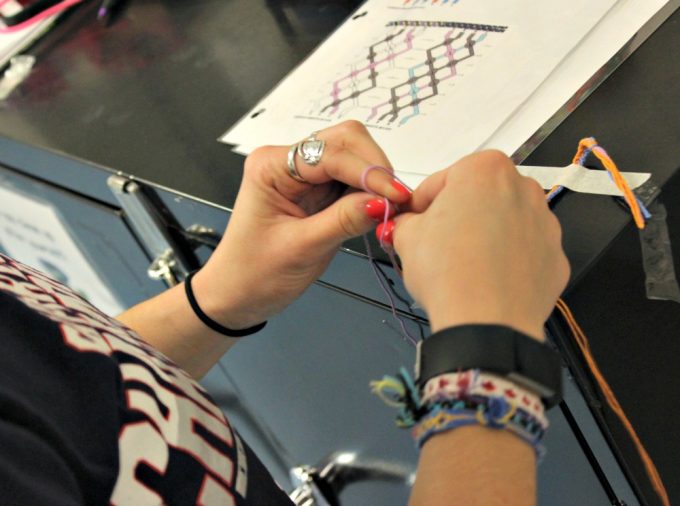 "I enjoy teaching the kids new skills and making bracelets with them," said Kat. "I enjoy playing soccer and kickball and stress ball making and slime activities and sensory crafts to help them express themselves. We also watch a lot of movies. It's like a camp with therapy mixed in."
Although the "camp" has its tough days, Kat says that staff try to keep things positive in CBAT so that the kids can stay positive, too.
"We're all a little weird and goofy," laughed Kat as she explained her colleagues. "We communicate constantly with walkie talkies to keep the kids safe and to support each other. We all want to make a difference and give the kids the best care possible."
Care for one kid isn't the same for another, said Kat who works with her team to adapt and learn new techniques for all types of children and challenges.
"They are all different and go through waves," said Kat of the patients.  "But they often feel comfortable with Residential Counselors who they connect with who give them support and someone to vent to and someone that they trust."
Kat majored in psychology in college and minored in sociology. She completed an internship with adolescents in a school setting prior to her career at Franciscan Children's. However, she had little experience with younger children, but through her time with us, she discovered that she loves working with them too because the "younger kids just have more fun."
"My friends think that I do a lot of babysitting from the beginning of the day to the end, but with every day things, we are working on coping and social skills while creating a safe, community space at the same time.
According to Kat, CBAT staff attempt to "meet kids where they are" and to set rules and limits while remaining flexible and working with the kids to solve problems. Kat says that their collaborative approach to tackling issues often takes time and can be challenging during the process. As an example, Kat told a story about a patient who didn't want to shower. Instead of asking the patient why he or she wasn't showering which might prompt confrontational behavior, Kat and her team worked with the child to get to the root of the obstacle which turned out to have little to do with showering. After their discovery, the child worked with the team to come up with a creative solution that resulted in success.
"Kat has embraced CBAT's adoption of Collaborative and Proactive Solutions (CPS) and has been such a leader in its implementation," said Katherine May, CBAT Program Manager. "She truly believes that our kids are doing the best they can and shows the kids and their families such compassion. We're very lucky to have her on our team!"
In the future, Kat would like to go back to school to become a mental health counselor with a goal to do more one-on-one counseling for elementary age kids. However, she said that she might like to stay in a hospital setting to focus on treatment.
Kat says that it is often difficult not knowing how patients are faring after their time with us. However, she keeps an anonymous quote book with her team where they write down positive comments and funny quotes to preserve memories of the times that they shared with the patients.
"It's always a good feeling when you think 'Hey, that kid really likes me'," said Kat. "It's important that you are there for them while they are here and that you make an impact."
"She has pretty long hair, a funny laugh, and she's my favorite," said one patient of Kat's impact.
CBAT is often in need of more Mental Health staff members to join Kat and her team of Residential Counselors. Kat said that CBAT is constantly on the lookout for outgoing, positive people who have experience working with kids and who enjoy it. They need staff who can lead teams, so Kat says coaching sports might come in handy. Also, they're always looking for good friendship bracelet makers.
Kat, thank you for making all of us laugh! But your dedication to our mission and to mental health services at Franciscan Children's is no laughing matter. What you do each day is amazing!
Kat is one of our many compassionate, positive Mental Health staff members. We're proud to celebrate Kat and her colleagues not only during Mental Health Month, but all year round. Their commitment to providing excellent care supports our unwavering commitment to help children live their best life. Please join us in celebrating the invaluable work of Kat and her colleagues by following us on Facebook, Twitter, and Instagram during Mental Health Month and sharing the facts and stories that resonate with you. 
There is a simple, quick, and anonymous way to check in on the mental health of you or a loved one. Take a screening here.
View All Blog Stories