Our Blog
Meet our Team: Mercy, Environmental Services Aide
Along with Mental Health staff, our Environmental Services Aides at Franciscan Children's play a critical role in providing support and care for the children, adolescents and teens that come to us for mental health services. The McLean Franciscan Child and Adolescent Inpatient Mental Health program (Unit 1) is a place for hope and healing for children in psychiatric crisis, offering expert crisis stabilization, assessment, and inpatient mental health treatment in a safe and nurturing environment. To contact our Unit 1 24-hour referral line, please call please call (800) 333-0338.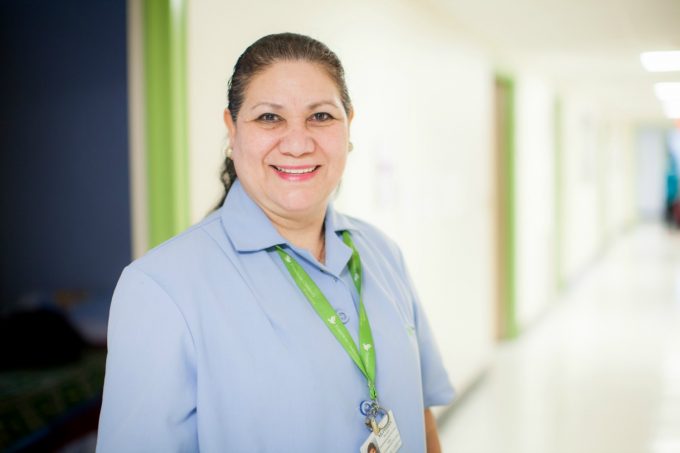 Mercedes del C. Morales, also known as Mercy, is a "living legend" who works as an Environmental Services Aide in the McLean-Franciscan Child and Adolescent Inpatient Mental Health Program (Unit 1). Her work has been known to comfort many of the children, adolescents and teens who come to us for mental health services during times of crisis.
"There are 42 rooms, 17 bathrooms and 10 places for the vacuum," explained Mercy, who has been cleaning patient rooms at Franciscan Children's for 13 years. "I clean the beds, dust, move couches, take out the laundry and trash."
Those tasks might seem small in Unit 1, where complex mental health issues are being addressed. However, Unit 1 Director Ralph Buonopane says that Mercy plays a big role in the comprehensive care that their team provides.
"Our program creates a sense of hope and healing for families in severe moments of mental health crisis," said Buonopane. "Our staff works collaboratively with families to support them and share the stresses of those mental health challenges. Mercedes is the perfect examples of someone who exhibits our 'in this together' attitude."
Mercy has collected art, letters and photos from former patients over the years and she considers all of them family. In one of the letters, a former patient called her "a bright spot" in their life.
"This is just like my house, and I want to do something to make [our patients] feel good," said Mercy. "People just need space, love, good communication and a good attitude."
Mercy attributes her positive attitude to her faith and her belief that she is in "the perfect place," with a purpose to do her work in partnership with others.
"I'm excited and nervous for each new patient. We're working together," explained Mercy. "People need love. When you treat people nice, they treat you nice."
"[Mercy] senses what other people need. She takes initiative to do whatever is needed. Whether it's taking a moment to say good morning, or arranging photos in a respectful manner. She speaks kindly. She does her work with empathy," said Buonopane.
Buonopane says Mercy's legacy lives with patients for many years following treatment at Franciscan Children's, "Her kindness and empathy are known outside of our walls. She has a reputation of healing…"
Mercy, thank you for sharing your compassion and positivity with our patients, families, and your coworkers. Your dedication to our mission and to mental health services at Franciscan Children's is truly "a bright spot!"
Mercedes is one of our many compassionate, positive Environmental Services Aides. We're proud to celebrate Mercedes and her colleagues not only during Mental Health Month, but all year round. Their excellent work supports our unwavering commitment to help children reach their fullest potential and live their best life. Please join us in celebrating the invaluable work of Mercedes and her colleagues by following us on Facebook, Twitter, and Instagram during Mental Health Month and sharing the facts and stories that resonate with you. 
If you would like to pursue a fulfilling career in Environmental Services at Franciscan Children's, apply with us …so every kid can.
There is a simple, quick, and anonymous way to check in on the mental health of you or a loved one. Take a screening here.
View All Blog Stories