Our Blog
Music Therapy: Setting the Stage for Learning
The Kennedy Day School, located onsite at Franciscan Children's, provides fully collaborative special education, therapeutic, and health services to students, ages 3 to 22, with significant, complex needs from more than 30 cities and towns across Massachusetts. If you have questions regarding the Kennedy Day School, please contact Lynne Goyuk at lgoyuk@franciscanchildrens.org or 617-779-1113.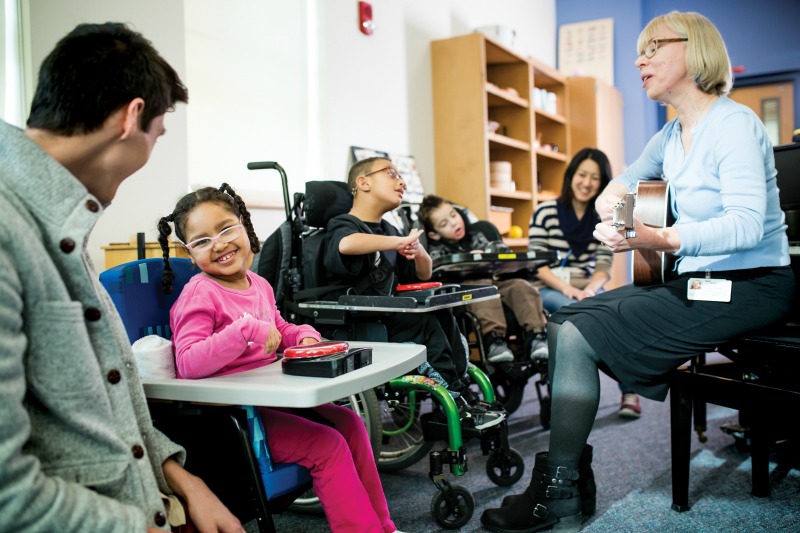 Walking down the hallways of the Kennedy Day School on a typical day offers a window into the bustling, varied world that is education at Franciscan Children's. You may see students on the go, practicing skills on an adaptive bicycle, smell the latest recipe being whipped up in our adaptive kitchen, or hear the sound of music coming from the Music Therapy room.
Music Therapy has been a core component of the Kennedy Day School for over 40 years. Each week, students attend at least two sessions – one Music Therapy session, and one Speech-Language co-treatment session – as part of their education. Led by board-certified Music Therapists, these sessions are designed to enable and encourage students to work on their individual goals in a social, energetic and self-expressive environment.
Typical Music Therapy sessions involve a small group of students whose needs vary depending on their cognitive level and physical disabilities. These small groups create a friendly environment in which each student can receive the support they need to work on their goals and truly shine. As a result, it's not uncommon for students to make progress and develop skills in Music Therapy that may not appear in other environments.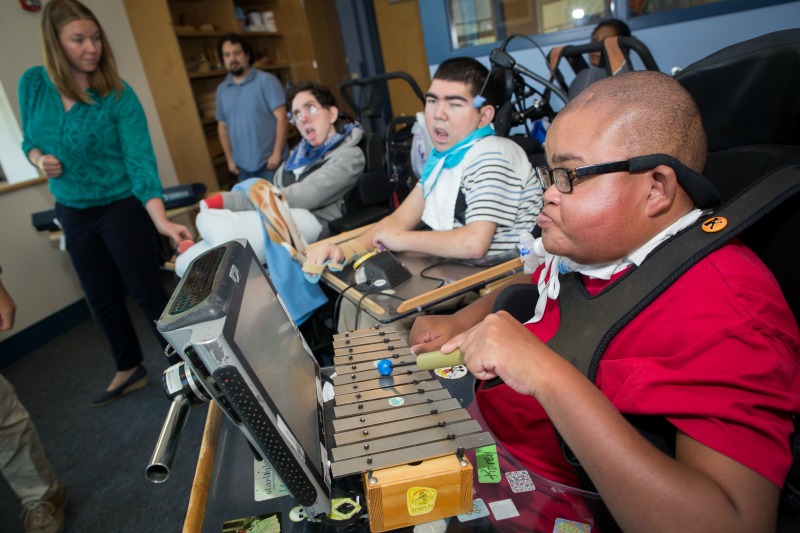 "Music encourages students to be their most attentive and focused selves.  It helps them be ready to learn," says Julie Zigo, MT-BC, Music Therapist. "When you see your students at their best, showing high-levels of participation, an incredible sense of classroom community is formed."
If you have the privilege of observing a Music Therapy session in the Kennedy Day School, you know exactly what Julie means – you can't help but be swept up in the music (and fun) around you.
During  a recent in-service event hosted onsite at Franciscan Children's, Julie's colleague and fellow Music Therapist, Lyle Shaw, MT-BC, delivered a compelling workshop to staff members interested in learning more about the Music Therapy program. Lyle walked the audience through how he and his team prepare for a typical session, including the many ingredients needed to help each student achieve his or her respective goals. He also used a rough-cut video of a Music Therapy and Speech-Language Co-Treatment session, featuring KDS students, to help guide his presentation.
You can watch the video here, or press play using the player below.
When it comes to planning a Music Therapy or Co-Treatment session, music selection is a key component, as it often sets the tone for the group. Songs are chosen based on what students listen to regularly, or what's appropriate for the time of year, season or an upcoming holiday. These details make the music not only relevant, but fun – making it easier for students to stay attentive and engaged during their session.
Choosing a song creates the foundation for a session. From there, our Music Therapists truly build a unique, individualized experience to meet the needs of the group.  In the case of our video the session is a Music-Speech Therapy Co-Treatment, meaning that Music Therapists are collaborating with Speech-Language Therapists to address their students' communication goals and enhance their progress.
"The connections between all of our programs and services are what enable our students to be so successful," Julie says. "Education at the Kennedy Day School is truly team-oriented, which creates an amazing culture where students' goals are being worked on and supported in all aspects of their educational experience."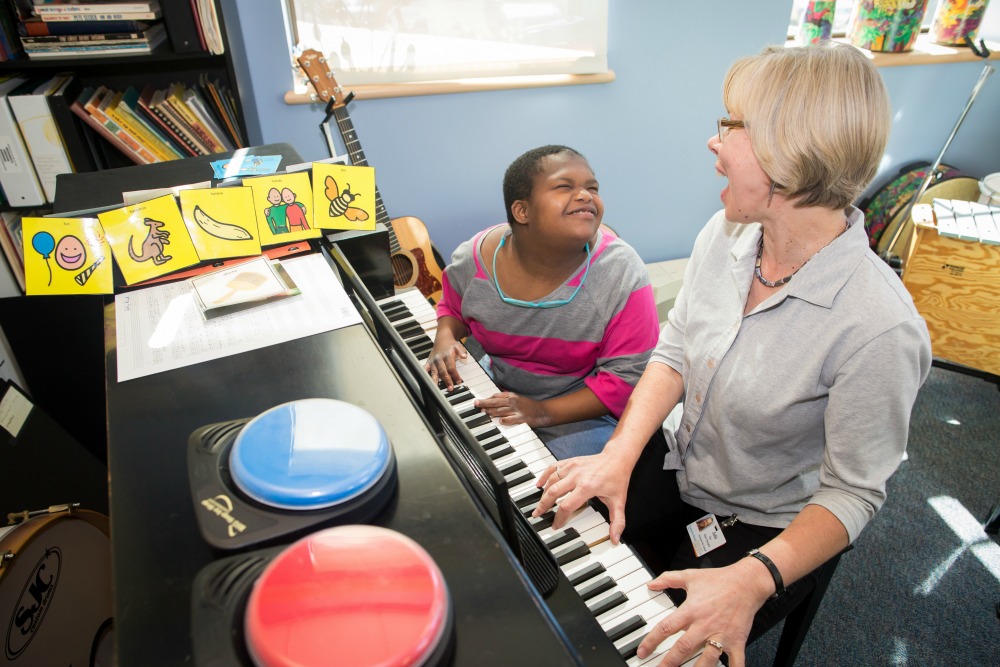 Consider our video – Justin Bieber is a well-known figure in pop culture, making his current hit, "Sorry," an easy song choice for the teenage students participating. In this co-treatment session, the students are primarily working on using their communication devices to participate, make-choices, and to sing the lyrics of the song.   In addition, these students are taking turns, waiting to participate, developing body awareness, and gross motor skills. Lyle adapts "Sorry" to support those goals by changing the lyrics, making them more appropriate for the classroom setting and reaffirming their goal of having a "focused body" throughout the session.
There is a difference between performing for someone, and creating music with someone. Music Therapists make music with their students –playing together as a group and supporting one another. "I think of a Music Therapy group like a band," Lyle explains. "We practice before we jump into the song so everyone knows their job and is prepared to play their part in making our song successful."
A Music Therapy session is a structured environment, but there is always room for improvisation. For example, due to various physical challenges, our students may have trouble playing in sync with the music. Around the 0:05 mark in the video, you hear Lyle modify the rhythm and tempo of his guitar to support his student's playing on the drum. By adapting their music to match their students', a Music Therapist affirms their contribution to the song. "It's our way of saying:  'I'm listening to you, and I think what you're doing is awesome'" he says. This positive reinforcement encourages the student to continue to contribute to the group and work on their skills.
As Lyle leads the session, he signals his students to jump in and participate by using their names. They respond to their cues using their own assistive technology – ranging from iPads, to switches, to other assistive communication devices – based on their abilities. In the video you see Kevin, one of our students, activate a button on his screen.  Kevin created the sentence: "Is it too late now to say 'sorry?'", on his communication device, allowing him to sing this lyric throughout the song.
Go back and watch the video clip again. Can you see how the various components of a Music Therapy session come together? From students using their communication devices and waiting their turn, to our Therapists matching the beat and prompting their students with visual and auditory cues – all of the elements come together seamlessly to create a symphony of hard work and fun.
Ultimately, there's a sense of pride that comes with playing a role in something greater than yourself, and having those around you support that role – a feeling we can all relate to. It's evident by the smiles on the students' faces in the video clip, and the passion with which our Music Therapists talk about their work, that music is truly a powerful medium for learning.
Music Therapy is one of the many extraordinary services offered at the Kennedy Day School and Franciscan Children's. We are grateful for talented staff members, like Julie and Lyle, who create unique and powerful opportunities for their students to feel motivated, and more importantly, to feel like a part of a group or community that works together to achieve a goal. Their creativity and dedication to making music fun and rewarding embodies our commitment to ensure that every kid can reach their fullest potential and live their best life.
View All Blog Stories