Our Blog
Volunteer to make a difference
At Franciscan Children's, our Volunteer Program provides volunteers with the opportunity to truly make a difference and to be helping hands for our patients, students, families and staff. Whether you are playing games with children, cuddling infants in our medical rehabilitation programs, navigating visitors around campus, or giving parents a much-needed break, your generosity leaves a lasting impression on the Franciscan Children's community. To learn more about the Volunteer Program and review open opportunities, please click here.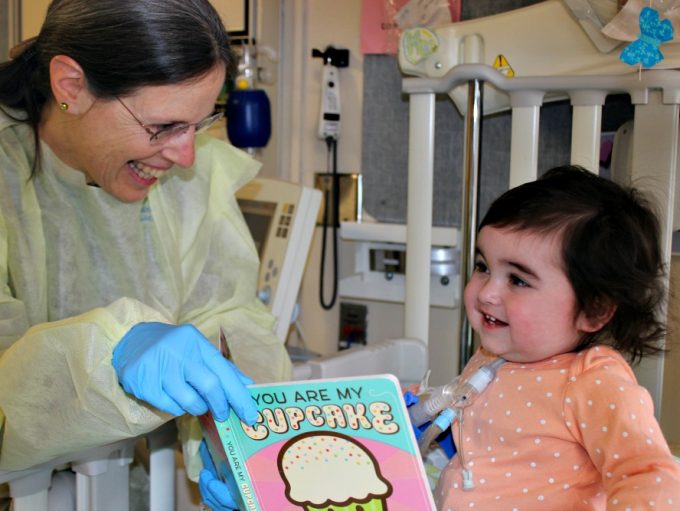 For three years, Ellen Vliet Cohen has visited the children in the Inpatient Pediatric and Pulmonary Rehabilitation Programs at Franciscan Children's to figure out what makes them smile. During her volunteer visits, Ellen might cuddle a baby, sing a child's favorite song, make funny noises or bounce a ball depending on a child's needs.
"At first it was an adjustment seeing and dealing with all of the tubes and wires that some of the children have attached to them. Now that I'm more comfortable with that, I think I project a more relaxed mood, and the kids respond to that," explained Ellen, who volunteers for many reasons, including not having children of her own. "I'm loving being a volunteer more and more as time goes by."
Ellen says that she volunteers at Franciscan Children's because it gives her perspective on what is important in life, "No matter what is going on in the world or in my personal life, my attention is devoted completely to the kids while I'm here." In addition, she appreciates working with children and families in need because her profession does not typically offer that opportunity.
Child Life Specialists are thankful for the support that Ellen and other volunteers provide for parents and caregivers who can't be present during extended stays.
"Most of our families have to return to work and home life before their child is ready to go home, and Ellen gives parents peace of mind knowing that their children are not just well cared for by staff, but adored, stimulated, and played with by loving and giving individuals," said Courtney DiStefano, Child Life Supervisor who explained that Ellen's playtime with the children helps them form critical attachments and meet developmental milestones.
"Volunteers are such a valued resource at Franciscan Children's," said Stephanie Mace, Volunteer Program Manager. "Through working with us, volunteers often learn about themselves and those we serve by building relationships that make an impact for years to come."
The Volunteer Program at Franciscan Children's provides volunteers like Ellen with the opportunity to make a difference and to be the helping hands for our patients, students, families and staff. Volunteers share a commitment to helping children reach their fullest potential and live their best life.
When asked to share an experience about her work with children in our Inpatient Medical programs, Ellen told a story of an infant who stole her heart while weaning from drug addiction.
"The baby was extremely fussy, easy to overstimulate with sound and light, and needed to be comforted all of the time. The child craved a pacifier and would clasp it tightly with both hands while sucking desperately. One day, after I got the baby settled down on my lap, I removed the pacifier, and just talked gently. For the first time together, the baby smiled and made a few babbling sounds. I was delighted to witness the budding emergence of a person from inside this little bundle of need."
"Ellen has a true calmness and gentleness in her interactions with children that truly makes her unique. It helps the little ones to feel at ease knowing that she is there solely to play or snuggle. She is playful, and never afraid to be silly, and the children smile and focus in a unique way when they are engaging with her," continued Courtney.
Ellen is humble about her impact on the children. She is hopeful that her interactions make a difference in their lives, no matter how big or small.
"I get out of it at least as much as I put in," said Ellen. "This is a great opportunity for anyone who loves to comfort and nurture kids and watch them overcome enormous hurdles to recover from serious medical challenges. I love it."
Ellen, we are thankful for your gracious dedication to the children and families that we serve. Your efforts go above and beyond. Thank you for being a helping hand!
Franciscan Children's is looking for compassionate and positive volunteers like Ellen who want to make a difference. Join us to play games, guide guests, cuddle babies and more. See how your generosity contributes to a world in which all children can reach their fullest potential and live their best life. Learn more about our Volunteer Program, explore volunteer opportunities, and apply to join our team here.
Please contact Stephanie Mace, Volunteer Manager, with any questions Monday through Friday from 8 a.m. to 4:30 p.m. at 617-779-1156, 617-779-1109 or Smace@FranciscanChildrens.org.  
View All Blog Stories