Our Blog
Ways to Give 2016
As we look toward Black Friday steals and Cyber Monday deals, it can be easy to forget the true meaning of the Season of Giving. While we might be hoping that this holiday season we'll receive the new iPhone or an expensive piece of jewelry, many of the children we serve at Franciscan Children's have much simpler hopes.
A student in the Kennedy Day School wants the ability to feed themselves independently, despite a medical condition that prevents them from controlling their body movements. A child in our Inpatient Medical Rehabilitation program wants to take their first step for the second time after recovering from a tragic car accident. A teenager in our Inpatient Mental Health program desperately wants to regain a sense of hope, despite feeling like they don't belong.
This season, many of us will be found taking a nap on the couch after Thanksgiving dinner, or playing a game with family and friends to enjoy quality time with the people we love. Thousands of others will find themselves spending the holidays in the hospital.
Thankfully, we know that the spirit of the season is alive and well because we receive hundreds of inquiries each year asking one simple question: how can we help the children and families who will spend their holidays at Franciscan Children's?
We're glad you asked! Check out the infographic below (or view it here) to find four easy ways that you can help us spread joy, laughter, and holiday cheer at Franciscan Children's this year.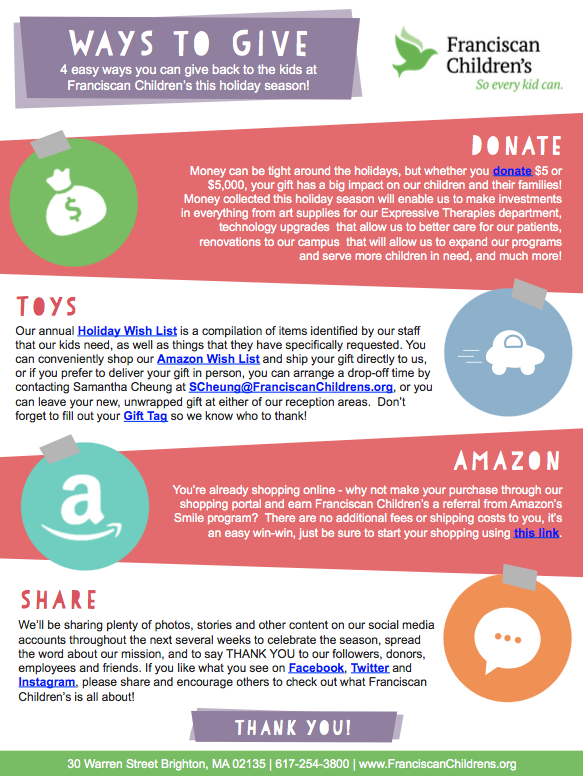 We hope that you'll join us this year in celebrating the Season of Giving. Your gift(s) have a direct and invaluable impact on the lives of the children and families we serve. Thank you for sharing our unwavering commitment to ensuring that every child can reach their fullest potential and live their best life, so every kid can.
From our families to yours, we wish you a healthy and happy holiday season!
View All Blog Stories