Feeding Team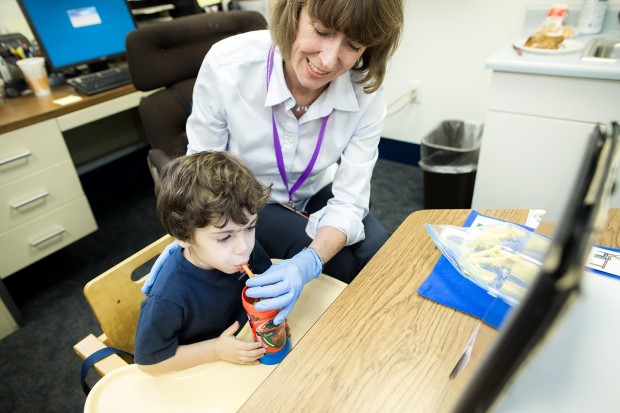 Franciscan Children's Multidisciplinary Feeding Team is comprised of a combination of a Behavioral Psychologist, Registered Dietitian, Occupational Therapist, and/or Speech Language Pathologist, who assess children with a wide range of feeding difficulties.
The purpose of a Feeding Team evaluation is to determine whether a true feeding disorder is present, determine the etiology/etiologies of feeding challenges, and provide recommendations and follow-up support in the management of feeding disorders. When applicable, therapy is provided. Symptoms of feeding disorders include:
Reduced variety of foods accepted
Difficulty gaining weight
Weight loss
Gagging with certain foods or textures
Difficulties adequately chewing or swallowing certain textures
Difficulties transitioning to more advanced textures
Maladaptive mealtime behaviors (e.g., tantrums, refusal)
Dietitians at Franciscan Children's ensure a balanced nutritional intake to optimize infants and children's growth and development. Pediatric dietitians may help children who eat food, who are fed through a tube, or who receive nutrition through an IV. Dietitians make sure a child is receiving enough nutrition to grow properly.
At Franciscan Children's, Dietitians who are pediatric specialists provide services within various programs, including both inpatient and outpatient programs.
To make a referral, please call (617) 254-3800, ext. 5220.
Contact Now