Physical Therapy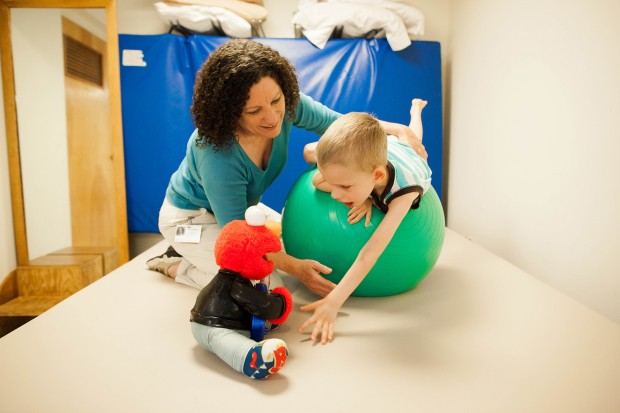 The Physical Therapy Department at Franciscan Children's helps patients improve their mobility, function, movement and quality of life. Through the evaluation of a patient's strength, flexibility, balance and endurance, our Physical Therapists develop treatment programs using exercise and modalities to help our patients accomplish their goals.
About our Program
At Franciscan Children's, Physical Therapists work with infants, children and teenagers (birth to 22 years of age) in a variety of settings including the Rehabilitation Program, the Pulmonary Program, Outpatient, Kennedy Day School.
We provide treatment for congenital, developmental, acquired, and musculo-skeletal disorders such as Cerebral Palsy, Brain Injury, Stroke, Sport Injuries, and Torticollis. Our experienced clinicians specialize only in Pediatrics, using evidence-based practice and cutting-edge technology. Children learn through play, therefore, all of our Physical Therapists use age-appropriate, motivating activities to enable younger patients to achieve their full potential.
Our Physical Therapists specialize in:
Aquatics
Developmental Therapy
Acute Orthopedics
Neurorehabilitation
Orthotic and Prosthetic Training
Seating and Equipment Clinic
Gait Training (including the use of Lite Gait)
Functional Electrical Stimulation /FES (using Bioness L300)
The Physical Therapy Department's Aquatic Program uses the Hydroworx 2000 pool.  This versatile pool provides warmth, buoyancy, adjustability and a supportive environment to help patients make progress.  Physical Therapy is provided on an individual basis with therapists who are experienced in pediatrics both in the water and on land.  Patients are able to use the water to improve flexibility, strength, balance and movement.  Most importantly, the pool is highly motivating.  Children can move easily, work on goals, improve their skills and have fun, all at the same time.
Clinic hours are Monday – Friday, 8:00am – 6:00pm. For more information or to schedule an appointment, please call (617) 254-3800, ext. 2180.
Contact Now