Dorian's Story
Strong, spunky, smiling. Those are just three of the words used by nurses to describe Dorian Powell, a 20-month-old patient at Franciscan Children's who has a number of complex conditions, including chronic lung disease, pulmonary vein stenosis and pulmonary hypertension. Those same words are used to describe Dorian's mom.
In January 2016, Dorian was born three months early, weighing a mere 15 ounces and facing a lengthy hospitalization and a multitude of medical tests and procedures.
Dorian's mom, Jasmyn Hart, did not know what to expect, but she knew she would be with Dorian every step of the way, despite having to travel back and forth to the city from her home and job in Springfield, an hour and a half away.
"I really don't know how we do it, but we just do," said Hart, who credits her extended family for their constant support since Dorian was born. "We live day by day, and when I look at [Dorian], I smile thinking that he's made it this far and been through so much."
Nurse Practitioner Stephanie Hopkins has been amazed by the strength and resilience of Hart and Dorian throughout seemingly insurmountable challenge.
"Jasmyn has uprooted her entire life to be by Dorian's side, and she has been through so much with him," said Hopkins who, along with the rest of Dorian's medical team, is hoping a lung transplant will offer him a shot at overcoming his pulmonary vein stenosis and to finally go home.
For 20 months, Jasmyn has traversed the I-90 highway, fueled by only a few hours of sleep. She loyally navigates from Dorian's bedside at Franciscan Children's to her job at a residential home for teenage girls in Springfield. The lack of sleep hasn't stopped her from learning everything she can about managing and caring for Dorian's medical complexities.
"I think about what I've been through, and then I look at that little face and think about what he's been through, and then I suck it up," said Hart who, for now, calls Franciscan Children's "home."
She stays overnight with Dorian as much as possible, doing laundry, making phone calls and snuggling her growing guy within the walls of their inpatient room.
When Hart has to leave for work, she is comforted knowing that Nurse Shannan Bresnahan, who she's dubbed Dorian's "girlfriend," is on duty.
"Since his first admission at Franciscan Children's, I have always had a special place in my heart for him," said Bresnahan. "His smile is constant regardless of the time of day or the circumstance he finds himself in, and he has been back and forth between Boston Children's and Franciscan Children's many times."
Dorian is similar to other children and premature infants served in the Inpatient Pulmonary Rehabilitation Program at Franciscan Children's. Many are dependent upon ventilator support when they are admitted from referring organizations like Boston Children's, and begin to wean and breathe on their own during their stay at Franciscan – a journey that often takes time and patience on the part of parents, caregivers and providers.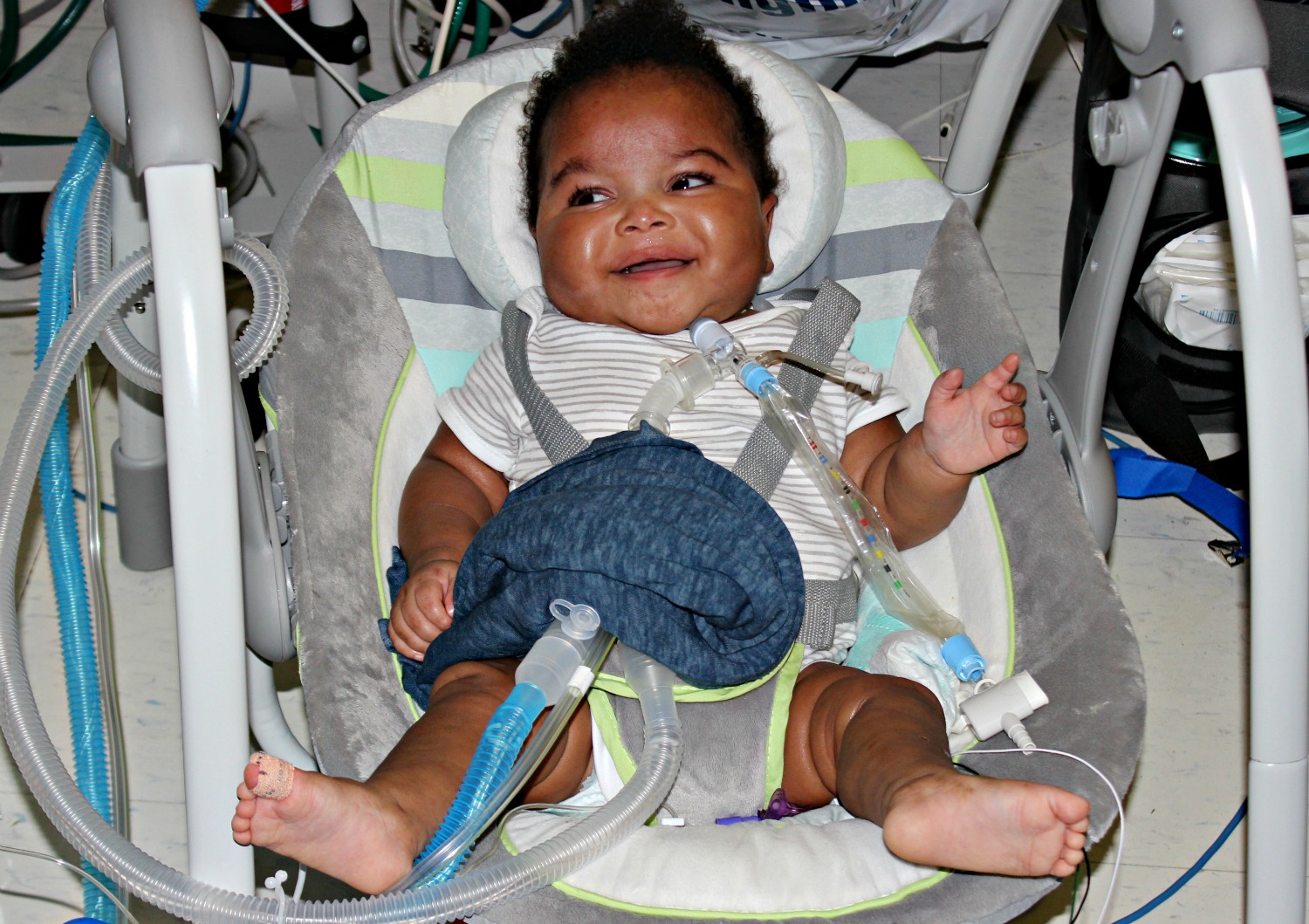 "All of us have seen Dorian at his highs and lows, and we are so lucky to watch him grow," said Bresnahan, who acknowledges that her "girlfriend" status is no match for Dorian's love for his mom.
"The bond between Jasmyn and Dorian is unexplainable," said Bresnahan. "Jasmyn always knows when there are any changes in him, because she has been there every second of the way. She has dedicated her entire life to taking care of him, and it is incredible seeing the love they have for one another."
It's clear from the moment you walk into his room that Dorian is a little boy with a big personality. It's that incredible spirit, along with the unwavering love and support of his mom and dedicated care team at Franciscan Children's, that keeps his bright smile shining despite his medical challenges.
"Dorian is a special boy and deserves the world," said Bresnahan. "He's a fighter, and we'll all continue fighting for him. I am so lucky to be able to take care of such an amazing child and family every day at Franciscan Children's. Seeing Dorian's smile always reminds me of why I love my job so much. Being his 'girlfriend' is a plus too!"
Want to share your story? Send it our way to stories@franciscanchildrens.org.
Explore All Stories