Kayden's Story
Kayden Marcelino of Lynn is a tiny performer who doesn't let the tubes trip him up when his mom, Leyda Uribe, turns on the tunes at Franciscan Children's.
"Kayden just loves music, any kind," said Leyda who has four older children, along with Kayden. "Kayden used to go over to the speakers at our house and motion, and Kayden's brothers, sisters and their friends would all turn on the music and dance!"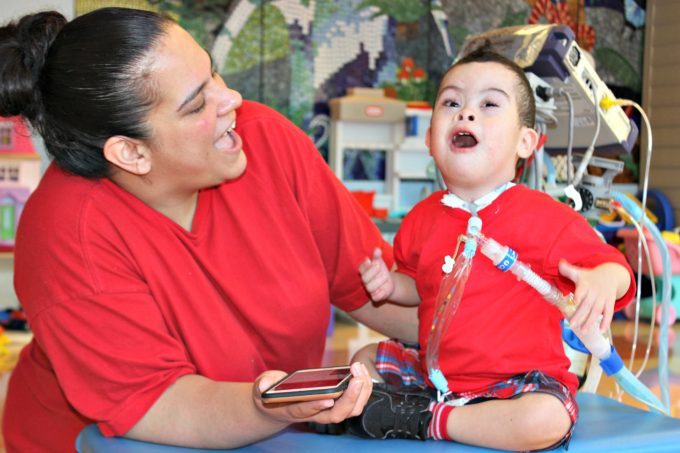 Three-year-old Kayden has been a patient in the Pulmonary Rehabilitation program at Franciscan Children's since March 2017 following surgery and a stay at Boston Children's. He has a complex diagnosis of Trisomy-21 (Down Syndrome), along with complex cardiac disease, pulmonary vein stenosis (PVS) and subsequent progressive pulmonary vein disease. Kayden currently requires oxygen via a trach tube to assist his heart and vein functionality. At Franciscan Children's, his cardiopulmonary care is closely monitored, and Leyda is receiving education on how to care for Kayden due to his ventilator dependence when the duo gets to go home.
"Kayden has overcome many obstacles since his hospitalization and seems to be adapting to his life on a ventilator well, as best as any three year old can," said Nurse Practitioner Kassy Thompson. "He gets through each day with many dance sessions."
Kayden was diagnosed with Down Syndrome before he was born, and Leyda anticipated that he might have a routine heart procedure or canal repair following his birth. However, his breathing was "off" in the early days, and the doctors began to suspect PVS. When he was eventually diagnosed following several tests, Leyda immediately asked the doctors if Kayden was going to die. Doctors didn't respond the way Leyda hoped and warned her of the difficulties of managing his disease. Kayden was put on a trial drug typically used for chemotherapy treatments, along with other medications. He had his first open heart surgery at four months old and another at seven months old. After that, Kayden had cardiac catheterizations every three months, frequent lung scans requiring sedation, an appendectomy and the insertion of a gastrostomy tube (g-tube) for nutrition.
"It was a really difficult time, and I wondered if it was ever going to end," said Leyda who has been by Kayden's side during what seems like "constant" procedures and surgeries since his diagnosis with PVS. "The doctors warned me that it would be hard, but I had no idea."
In December 2016, Leyda said that she began to notice that Kayden wasn't being himself, so she immediately took him to the hospital.
"The minute we took him in everybody was rushing around him, and it was like a scene from a movie…it was so scary," said Leyda tearing up.
Kayden required another heart surgery, and Leyda calls his third surgery, "the most intense." Doctors warned Leyda of the "brutal recovery" after surgery, and Leyda admits that the days following were some of her most emotional as she watched Kayden lie motionless on a bed due to the paralyzing effects of his many medications.
"One of the nurses gave me the book, Love You Forever (by Robert Munsch), and I would sit there and cry and read it to Kayden over and over while he was lying there. The little boy in the bathroom photo on the book cover is causing a ruckus, and it reminded me of Kayden and how he should be," said Leyda.
Kayden eventually required a tracheostomy following his surgery after he failed multiple extubation procedures from the ventilator. Shortly after that, the pair was referred to Franciscan Children's for further recovery. No stranger to local hospitals, Leyda was hesitant when she arrived to the unfamiliar hallways at Franciscan Children's. However, she says that she loves the organization now, despite dreaming of taking Kayden home to be with his siblings, "It's like family here. Everyone checks in on us all day, every day. And nothing fazes Kayden. This kid is unbelievable! He's always on the run."
Kassy credits Leyda for learning about Kayden's care quickly and for adapting to his needs with strength and positivity.
"Despite his medical complexity, Kayden's mother has learned all about his care and has been staying with him since he was admitted. Her commitment and love for Kayden has been amazing to witness. Even though the family has had a difficult past six months, she has handled everything with stride and grace," said Kassy who is hopeful that the duo will get to go home soon pending a public housing placement after Leyda recently lost her home of ten years in Lynn.
"You don't know what you have until it's gone," said Leyda about the loss of her home following financial problems making the monthly payments and keeping up with the maintenance costs of an older home. "Every time Kayden would see our house, he would clap his hands and make sounds. Now, when we leave and go to a new place, he isn't going to know what happened. I'm worried about that."
Along with others, Medical Social Worker Ashley Glesser, LICSW is working diligently to get Kayden to a home setting where he can spend time with his family and thrive outside of the hospital.
"Due to Kayden's significant medical needs, the family needs access to a handicapped accessible, appropriately sized home that is close to his specialists at Boston Children's and to his family in Lynn who are providing an outpouring of support to Leyda and are willing to help Kayden with his daily needs," said Ashley, who is remaining hopeful and persistent about finding a housing placement that meets all of his needs.
Leyda is eager to leave the hospital, but she understands that Kayden is safe and in good hands at Franciscan Children's.
"Leyda is a strong, resourceful, resilient woman and mother," said Ashley. "Her strength and positive spirit despite this challenging time in her life is amazing to see. Kayden's strong bond with her is representative of all the love and devotion she gives. He is such a happy little boy."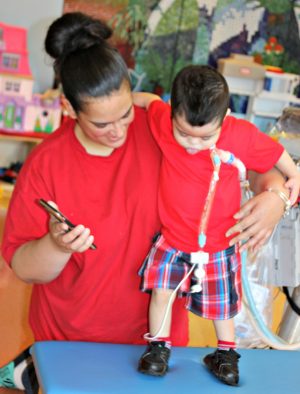 Leyda says she can't work due the constant care that Kayden requires, "He doesn't do well by himself, and I want to be with him. I live off of Kayden's disability because of his condition and needs."
Despite the uncertainty surrounding their housing situation, Leyda remains hopeful about her family being reunited soon. Her older kids say that they can't wait to have their "Ma" and Kayden home too. And Leyda dreams of hosting a birthday party for Kayden outside of the hospital, because his favorite song for dancing and moving is Happy Birthday.
"My older kids keep joking that they are hungry, and they can't wait for me to get home to cook again," said Leyda whose specialties are baked mac & cheese, rice & beans and BBQ ribs.
Leyda doesn't know what the future holds for Kayden with only two pulmonary veins out of four in operation, and she doesn't know what home might look like when she leaves Franciscan Children's, but for now, she's taking one dance step at a time with her little guy.
"Have you met this kid? He's amazing!" laughed Leyda.
We agree, and we hope you will too.
Want to share your story? Send it our way to stories@franciscanchildrens.org.
Explore All Stories