Korey's Story
Korey T. Foley was born on June 14, 1993 with alcohol and drugs in his system that contributed to multiple congenital birth defects. While he was able to overcome the addiction, it was only the beginning of the hurdles Korey would face in his young life.
In the spring of 1996, Korey was rushed to Boston Medical Center in cardiac arrest. It was there that doctors discovered that Korey had developed a cyst on his brain stem, and had a hole in his heart. While the doctors were able to remove most of the cyst, Korey could not breathe independently, so doctors performed a tracheostomy, creating an airway into his windpipe, and attaching a mechanical ventilator to facilitate breathing.
Korey remained in a coma for several months, and was transferred to Franciscan Children's for rehabilitation therapies.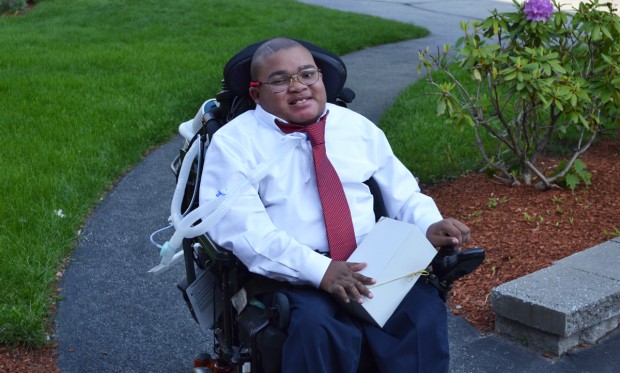 Doctors were unsure if Korey would ever regain consciousness, but his nurse, and future adoptive mother, disagreed. During an ambulance ride for an appointment, she felt Korey squeeze her hand and soon thereafter, he began to awaken.
Korey spent the next several years as a patient in the Pulmonary Rehabilitation program. Physical therapists helped him learn how to drive his motorized wheelchair, and speech therapists helped him learn how to communicate using a voice-output device.
As he grew stronger, Korey began attending the Kennedy Day School, located onsite at Franciscan Children's while remaining a patient on the rehab unit. He worked very hard to make strong gains, and always did it with a smile.
After almost 4 weeks in a coma, Korey responded to his Dad's request for a smile. Once again, Korey was back.
In December 2001, shortly before Korey was to be discharged from Franciscan with his foster parents, Mary Cait and Mark, he developed Sepsis, a blood infection that attacks all of the body's systems. Korey was transferred to the Intensive Care Unit at Boston Children's Hospital, and remained in a coma. Despite some doubts from the medical staff, Korey and his foster parents did not give up. After almost 4 weeks in a coma, Korey responded to his Dad's request for a smile. Once again, Korey was back.
After returning to Francsican Children's for additional inpatient rehabilitation, Korey was able to finally go home with his adoptive parents in August of 2002. He continued attending the Kennedy Day School, where he enjoyed reading, music and his vocational preparatory program, Project Excel. Korey graduated from KDS in 2015.
Today, Korey works at Franciscan Children's as our Patient/Student Ambassador. His infectious smile and signature "thumbs up" are well known throughout our halls, and his positive personality, strength, and determination are an inspiration to his colleagues, family and friends.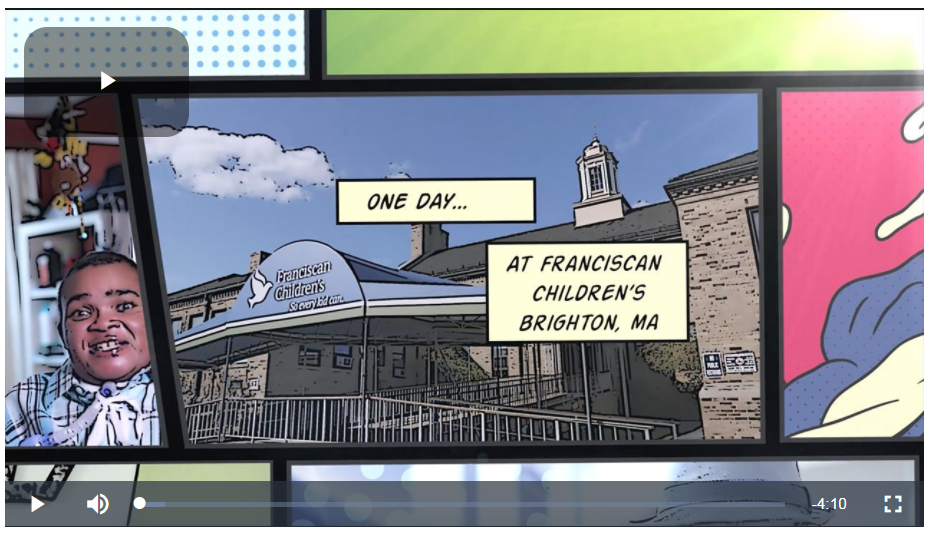 Click here to read more about Korey's incredible story, and get to know him through original video and comic book art via the Boston Globe. 
Want to share your story? Send it our way to stories@franciscanchildrens.org.
Explore All Stories