Nick's Story
"Mommy, my neck hurts." It was a cold February evening in Sutton, MA when 5-year-old Nick Manley complained of a sore neck to his mom, Julie. At a visit to the emergency room, Nick tested positive for Strep Throat and went home to start his recovery with medicine and lots of rest.  Nick didn't seem to be getting better with the medicine, so they visited his pediatrician.  High fevers started and no dosage of medicine could relieve them.  After 6 days at home, they thought the fever had finally broken but when Julie snuck into his bedroom to check on her little boy, what she saw next, changed their family's life forever.
Unrelenting seizures had taken hold of Nick's helpless little body
To her horror and disbelief, unrelenting seizures had taken hold of Nick's helpless little body and in what seemed like an eternity and an instant; they were whisked away in an ambulance. At the hospital, desperate to make the inexplicable seizures stop, doctors placed Nick in a medically induced coma.
Days turned into weeks and Nick was not getting any better. Doctors began preparing the Manley family for the worst. They were told it was unlikely Nick would recover and may not even survive the brain damage the ravenous seizures had caused.
Well over a month had passed since Nick was placed in a coma when his care team at Boston Children's Hospital informed them of two final drugs that might help bring him out of the coma safely. Willing to do anything to save their child's life, the Manleys agreed to the treatment and after 57 days, Nick woke up.
Although he was still experiencing numerous seizures a day, with time, they dissipated. He went from having at least one seizure an hour to one or none a day. Progress for sure, but the amount of brain damage he had suffered was extensive. Nick had lost his hearing, vision, speech, mobility and much of his cognitive function.
After 5 months at Boston Children's, the Manleys were faced with the decision of how and where Nick would begin the intensive rehabilitation his body and brain required. After touring different facilities and programs, the Manleys turned to Franciscan Children's. "We were really concerned Nick might have more seizures once he left Children's and knowing that Franciscan not only specialized in pediatric rehabilitation but also offered round-the-clock care by doctors and nurses – that alleviated a lot anxiety for us," said Julie. "We also couldn't help but be absorbed in the positive and hopeful environment of the hospital and staff. They gave our family hope again."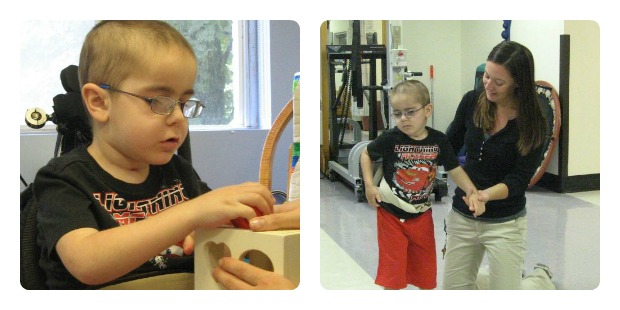 The rehab team quickly assembled an all-star team of doctors, nurses, speech, occupational and physical therapists and set to work right away on helping Nick get better. "It truly was incredible; Nick went from being bed and wheelchair bound to walking with assistance, riding an adaptive bike, communicating, bathing and re-learning everyday life tasks most people take for granted," Julie told us.  "Everyone was so positive and his progress was always their priority. Not once did anyone ever question if he would improve enough to be able to go home."
"Everyone was so positive and his progress was always their priority…"
After two months of hard work, Nick was able to go home with his family where he continues working hard and is making remarkable progress.  His cognitive ability is improving, his vision and hearing are coming back and his speech and communication skills are returning as well. It's been a long and challenging road for Nick and the Manleys but the future looks bright. "He really is our little superhero," says Julie.  We couldn't agree more.
Want to share your story? Send it our way to stories@fhfc.org.
Explore All Stories