Stephen's Story
Dave and Lianne McInerney say they don't give up. Their son, Stephen McInerney, doesn't seem to either.
Born at 25 weeks and weighing a mere 13 ounces, Stephen faced many challenges before he was admitted to the Inpatient Pulmonary Rehabilitation Program at Franciscan Children's. Today, 7-month-old Stephen continues to grow and make progress thanks to a specialized team of therapists and providers, along with dedicated parents who are determined to celebrate what Stephen can do as they face the future together (and wait for the day when Stephen can drive his battery-charged Dodge Charger to match his Dad's authentic version).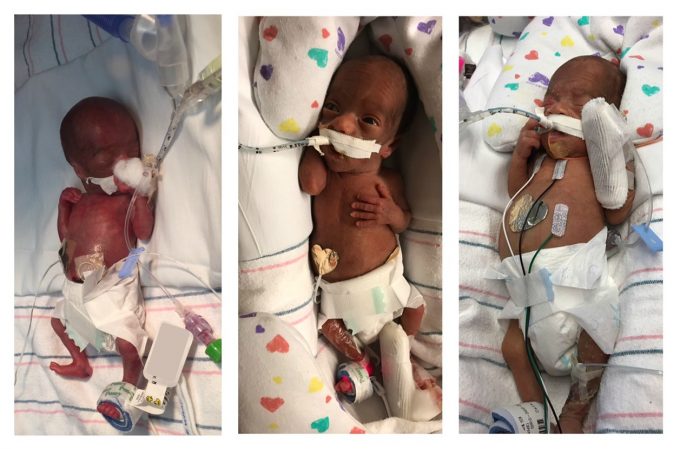 When Lianne, a teacher from Lynn, found out that she was expecting, she experienced a normal pregnancy. Dave was ecstatic and told all of his coworkers at the car dealership to be on standby for Lianne's calls. The couple went in for their 20-week ultrasound to find out if the baby was a boy or girl. There were many cheers for blue, but things quickly changed when the doctor came in and said that blood tests were necessary because the baby boy was measuring small. However, the couple wasn't too alarmed, since Lianne wasn't experiencing complications.
One night in January, that quickly changed. Lianne woke up at midnight with a strange feeling of extreme heartburn. She felt that something wasn't right and told Dave that they needed to get to the hospital in Beverly right away. At the hospital, doctors and nurses monitored Lianne who had developed extremely high blood pressure. Lianne was transferred to Beth Israel Deaconess Medical Center, and early in the morning, doctors told Lianne and Dave that their baby boy would be delivered that day.
"Doctors gave us lots of options that we didn't want to hear at that point," said Lianne. "From the beginning, we always thought that there could be a chance that he (Stephen) would be okay."
Stephen was quickly delivered via caesarean section, and Dave went with the baby per Lianne's instructions and with a quick kiss to Stephen's head.
"Doctors surrounded Stephen right away and ran down the hall with the incubator," said Dave. "I didn't know what to do or what to expect after that."
In the days that followed, Dave and Lianne were devastated that they couldn't touch or hold their tiny son. However, they made the most of the situation, referring to the incubator as Stephen's spaceship and buying small outfits for stuffed animals that Stephen could wear to commemorate special occasions.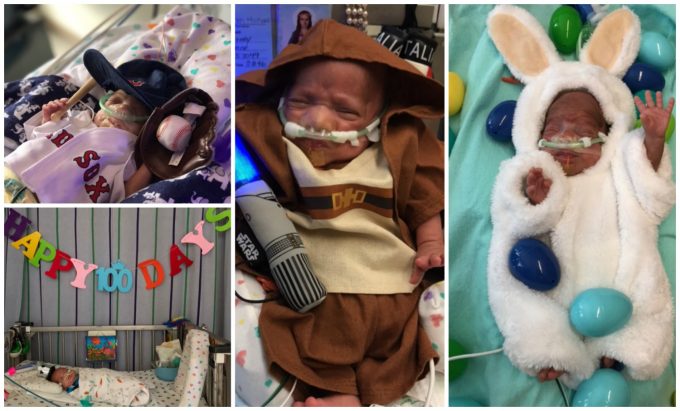 "From the beginning, we decided we weren't mourning over our child, and we made a commitment to celebrate every moment for him," explained Lianne who told doctors again that they weren't giving up when Stephen suffered a bilateral, grade three brain bleed.
At three weeks, providers worked together to make it possible for Lianne to hold her tiny son for almost 30 or 45 minutes while a respiratory therapist sat by her side helping Stephen to remain stable.
"I think they thought he wasn't going to make it, but I refused to buy a casket," said Lianne who had Stephen baptized then upon recommendation. "He had pneumonia and sepsis and was one and half pounds."
"I walked in and said to Stephen, 'There's no giving up.'"
That same day, Dave got a call at the dealership to go to the hospital right away, and he knew something was wrong when he walked in the room and saw the worried faces of nurses.
"I walked in and said to Stephen, 'There's no giving up. It's okay to be scared and cry, but it's not okay to quit. And he didn't.'"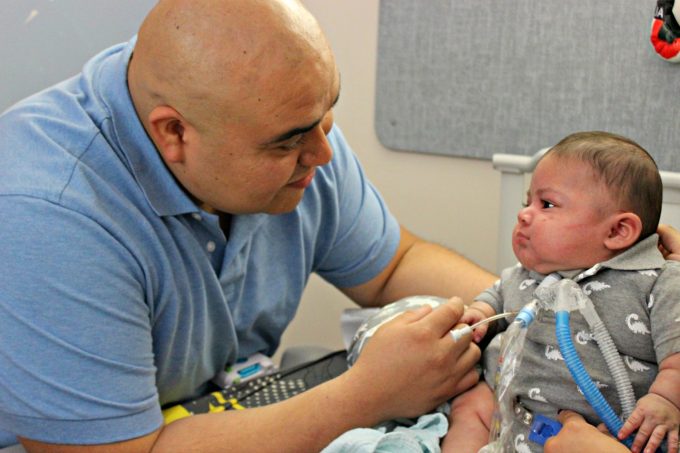 Since then, Stephen has come a long way. He was sent to Boston Children's Hospital for a tracheotomy and nearly five weeks of recovery. After that, he was transferred to Franciscan Children's for post-acute rehabilitation that would help him continue to grow.
"He is thriving here," said Lianne who has been by Stephen's side most days from 10 a.m. to 7 p.m. during the summer months. "He is grasping and working on his head control. He can get all of his therapies here, and that really makes a difference from speech to OT to PT. I was so unsure about this place, but now I understand how much better this is for him in the interim. Now it's like I'm being a regular Mom."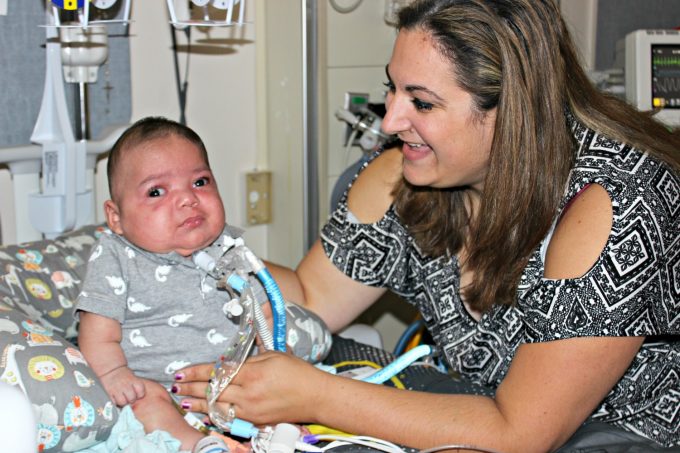 Dave comes in for visits with his little guy almost every morning and every evening before and after work. Together, he and Lianne give Stephen his meds, change his clothes, give him baths, and weigh him.
"The progress that he's made at Franciscan Children's has been wonderful," said Dave. "We're always greeted with a smile, even by security, and everyone cares so much."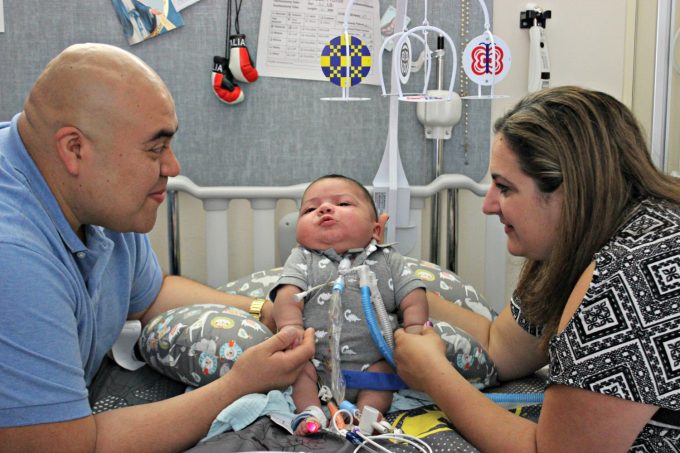 "Given his extreme prematurity, Stephen has a made wonderful progress towards being able to go home," said Dr. David Leslie of Franciscan Children's, who has worked with other providers to train Lianne and Dave on how to care for Stephen's medical needs. "His parents are super involved and are a pleasure to work with as members of our team."
Dr. Leslie acknowledges that Stephen's progress and condition in the future remains uncertain, but he is confident that the care provided by Lianne and Dave will be "fantastic" in a new setting at home when that day comes.
"We are hoping that things get easier and that we've hopefully been through the worst of it, but anything life throws at us, we know that we can deal with it," said Lianne who is steadfast in her support of her growing guy. "Some people told us that Stephen would never walk, eat or see, but minute by minute, hour by hour, day by day, he's proving them wrong. And now he's got folds and rolls and cheeks to prove it!"
Dave and Lianne are counting the days until they can take Stephen home where his nursery is waiting with full décor, especially his fully-charged Dodge Charger. Now at 7 months and weighing more than 15 pounds, Stephen might be well on his way, and we know there's no stopping what he and his family will accomplish together in the future.
Want to share your story? Send it our way to stories@franciscanchildrens.org.
Explore All Stories