Victoria's Story
Victoria Tolman was born on July 10, 1985, and was a spunky child who lived an active and normal life for her first 11 years. In October of 1996, Vickie went to bed a vibrant 11 year old and awoke the next morning completely impaired. She found herself suddenly and inexplicably stricken with a neurological disorder that rendered her unable to speak, walk, eat, or swallow.
Vickie was rushed to Children's Hospital Boston where she spent three months on a feeding tube while doctors tried to find a diagnosis for her sudden illness. During this time, Vickie discovered that her motor skills had vanished, and felt trapped in a body that simply would not work.
Vickie, faced with a seemingly impossible battle, came to Franciscan Hospital for Children with the determination to do the unbelievable: reclaim her life, and return to the girl she once was. Vickie spent 3 months at Franciscan undergoing intensive physical, occupational, and speech therapies. Her prognosis was not favorable. Doctors, nurses, and therapists thought Vickie would be confined to a wheelchair for the rest of her life.
The thought of never being able to walk again merely strengthened Vickie's resolve. Through sheer willpower, courage, hard work, and the help of her therapists, Vickie slowly began to regain the use of her hands, and the ability to speak and eat. But despite these great accomplishments, she was still confined to a wheelchair, but worked even harder to gain the ability to walk with the use of a walker. Not satisfied with using a walker, Vickie moved on to crutches within weeks. While she had already proven everyone wrong, she would still not be satisfied until she was walking again on her own.
After two long and difficult years, Vickie walked down the aisle of St. Columbkille's Church in Brighton to graduate with her eighth grade class.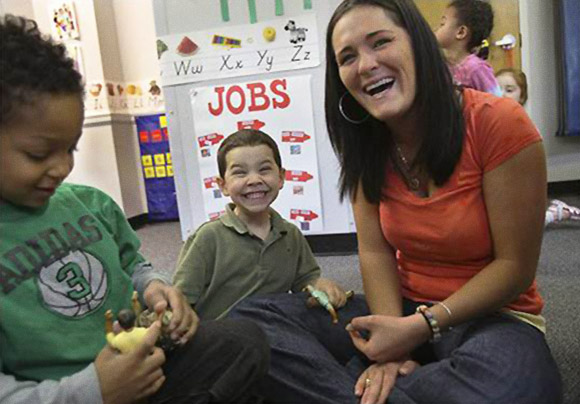 Today, Vickie is an active, happy and successful 22 year old who loves spending time with her friends and family. She is currently completing her Bachelor's degree and working towards her Master's degree at Boston College, while working full-time at Franciscan Hospital for Children. Vickie has had a long and arduous journey, but has faced every obstacle with strength, determination, and perseverance, and is an inspiration to her family and all those who know her.
Want to share your story? Send it our way to stories@fhfc.org.
Explore All Stories