Interpreter Services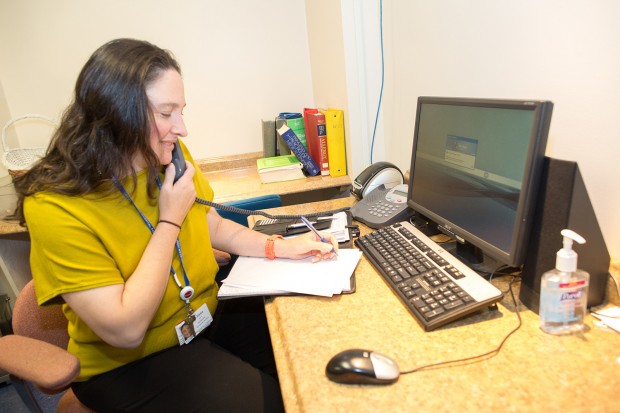 Linguistic & Cultural Services serves patients and families with Limited English Proficiency in all of Franciscan Children's departments, clinics, and programs. Our goal is to ensure clear and accurate communication in any language needed, including American Sign Language. Families have the right to a medical interpreter at no cost.
You can request an interpreter 24 hours a day in person or over the phone. Our office hours are Monday through Friday, 8:30 am to 5:00 pm. Nights and weekends we have interpreters available over the phone. In-person interpreters are available outside normal business hours if the request is made in advance.
Our medical interpreters are trained in interpreting skills, ethics, and medical terminology, and have a professional commitment to confidentiality and objectivity. They interpret at all medical outpatient appointments, inpatient encounters, and school programs. They are also available to help families navigate our hospital and the U.S. health care setting.
En Español
Usted Tienen Derecho A Un Intérprete Médico Sin Costo Alguno.
El Departamento de Idioma y Cultura ha sido establecido para servir a pacientes y sus familias que tienen un manejo limitado del inglés. Tenemos intérpretes disponibles para asistir a las familias en todos los departamentos, clínicas y programas del hospital.
El objetivo de nuestro departamento es asegurarnos que haya una comunicación clara y exacta entre nuestros pacientes, padres/tutores legales, doctores, enfermeras, maestros y demás personal en el idioma requerido por la familia, incluyendo el idioma de senas americano (ASL).  Usted puede solicitar un intérprete las 24 horas del día, ya sea en persona o por teléfono. Nuestra oficina esta abierta de lunes a viernes de 8:30 de la mañana a 5:00 de la tarde. En las noches y fines de semana tenemos el servicio de intérpretes por teléfono. Es posible pedir con anticipación un intérprete en persona para citas fuera de nuestro horario usual.
Nuestros intérpretes médicos tienen entrenamiento en técnicas de interpretación, ética y terminología médica, al igual que tienen un compromiso profesional de confidencialidad y objetividad. Estos se encuentran disponibles para todas las citas médicas de consulta externa, pacientes internos, y programas escolares. Al igual que estamos disponibles pata ayudar a las familias a desenvolverse en nuestro hospital y en el sistema de salud de este país.
Para contactar nuestro departamento nos puede llamar al 617-254-3800 ext. 4700.  Si usted se encuentra dentro del hospital le puede pedir a cualquier empleado que llame al intérprete.
Interpreter Services, (617) 254-3800 ext. 4700.
Hours of operation: 24 hours a day, 7 days a week.
Contact Now