Kennedy Day School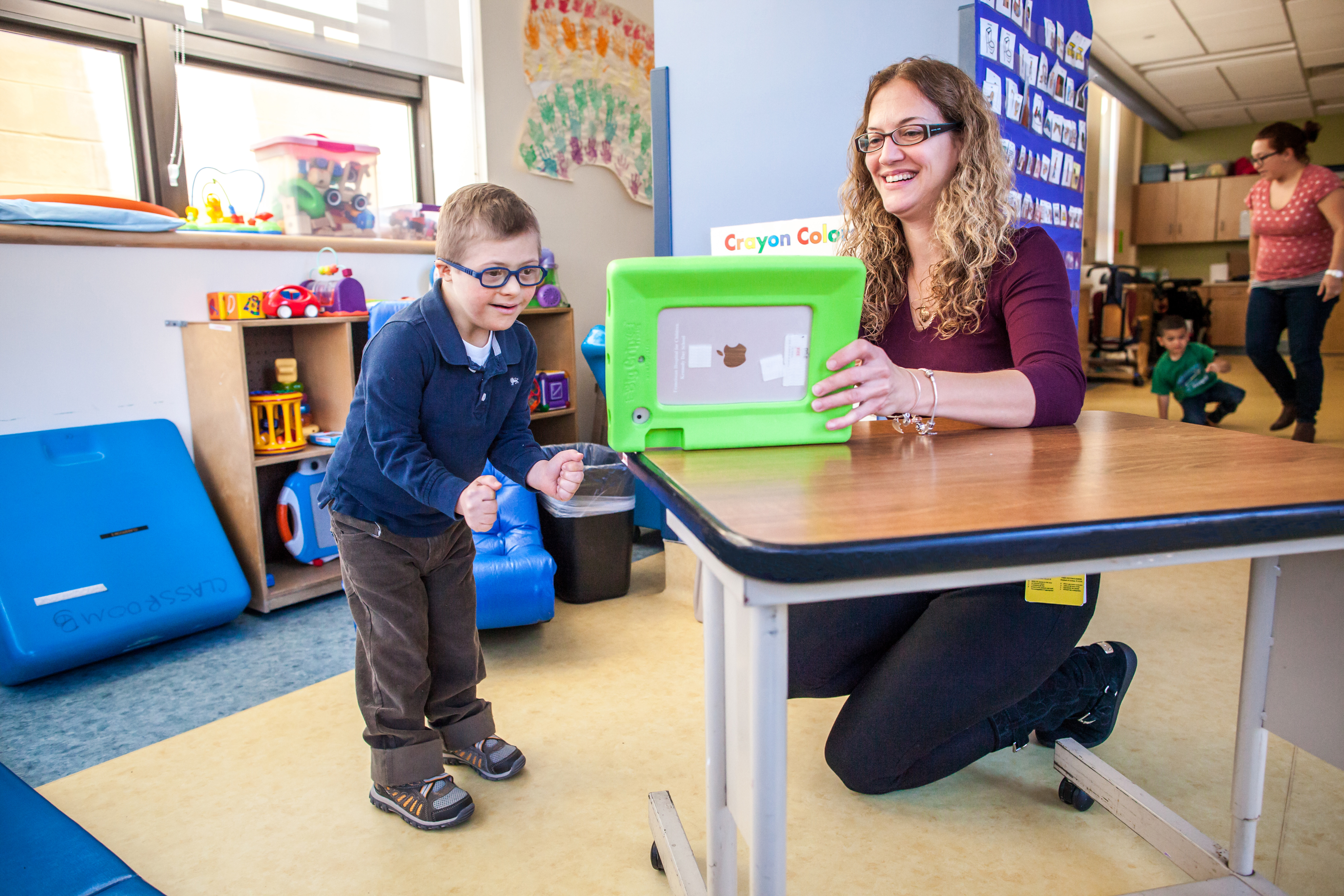 The Kennedy Day School at Franciscan Children's combines 50 years of experience and proven expertise with a brand new facility that reflects our reputation for excellence and innovation. Every day, we provide fully collaborative special education, therapeutic, and health services to over 80 students, ages 3 to 22, with significant, complex needs from more than 30 cities and towns across Massachusetts.
Situated on a welcoming landscape of playgrounds, Kennedy Day School is located on a campus that seamlessly blends an enriching learning environment with the vast resources of Franciscan Children's, a renowned pediatric rehabilitation hospital. Often described as wonderfully unique, the school consists of 14 large, accessible classrooms interwoven with highly specialized services.
Each student's interdisciplinary team of service providers specifically address areas such as communication, mobility and motor control, vision, hearing, feeding, cognition, social development, and fragile health.
Individualized Education Program (IEP) plans are developed through cooperative planning with each student's family and school district, in order to address the unique needs of the learner, from preschool to high school, both individually and in small, supportive class groupings.
Program Snapshot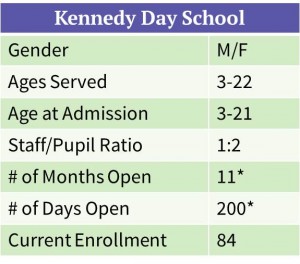 * Specialty camps and recreation opportunities are also available.

Admissions
The Kennedy Day School has an open admissions policy throughout the school year. A student may be referred by a LEA, with support as appropriate from clinics/hospitals and human service agencies. Parents are welcome to call at any time to arrange for a tour of the School.
About Our School
Welcome to the Kennedy Day School (KDS) webpage! Here you'll find a brief overview of our program and more information about the services offered to our students and their families.
Visitors to the Kennedy Day School often remark that they're particularly impressed by the fact that our school is both comprehensively structured and highly flexible. These qualities unite by design. The unique skills, interests and needs of each student are consistently incorporated into customized learning plans that are holistic, meaningful, and responsive. When the child comes first, success follows, and there is nothing quite like the convergence of smiles and success!
I encourage you to take a few moments to look around this page and get to know us. We welcome the opportunity to answer your questions and speak with you further about our program. Please feel free to reach out to me directly at any time at 617-254-3800 ext. 6160 or bpaulino@fhfc.org , or to my colleague Lynne Goyuk, our Educational Admissions and Outreach Specialist, at 617-779-1113 or lgoyuk@fhfc.org.
Thank you for your interest in the Kennedy Day School!

Bonnie Paulino
Director, Kennedy Day School
Are you looking for more information? Do you have questions about our program? Would you like to schedule a tour?
Please call Lynne Goyuk, our Educational Admissions and Outreach Specialist, at 617-779-1113 or use the button below to fill out our Contact Us form and someone from our team will follow up with you promptly.

For directions to the Kennedy Day School and parking information, please click here.
Our Services
Adapted Physical Education services at the Kennedy Day School focus on the development of motor patterns and skills, hand-eye coordination, body awareness, and overall fitness.
Using equipment adapted to meet their unique needs, students participate in fun games and activities, while simultaneously strengthening their social interaction skills, leisure interests, and self-esteem.
Whether in the gymnasium, out on the playground, or on community outings, students benefit from a broad array of opportunities to experience active success.
The Kennedy Day School incorporates Applied Behavior Analysis (ABA) into a blended approach that focuses on student success for lasting positive outcomes.
(Please see Psychology Services below.)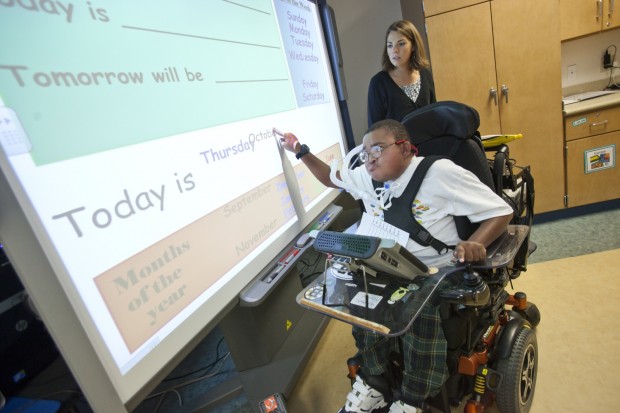 The Kennedy Day School provides assistive technology solutions to support student learning throughout the curriculum. The student's team continually assesses the student's strengths and challenges to determine how technology can improve functioning, or provide better access to the academic curriculum.
Our Assistive Technology Specialist works directly with students to determine individual assistive technology needs, and provides consultation, customization and, as needed, fabrication of high and low-tech options to enhance student learning, communication, social interactions, and environmental control through the use of technology. Assistive technology tools offer students mechanisms for greater independence, self-direction in learning, and enhanced self-esteem.
Hearing and listening skills are essential to speech, language, communication, and learning. Our audiologist designs, manages, and implements hearing screening programs to identify potential hearing problems, and manage information regarding the type, degree, and nature of an identified hearing loss, as well as corresponding recommendations relevant to the learning environment. The Audiologist monitors and offers consultation for those students with hearing impairments, and troubleshoots personal hearing technology, including hearing aids, cochlear implants, FM systems, and group amplification technologies.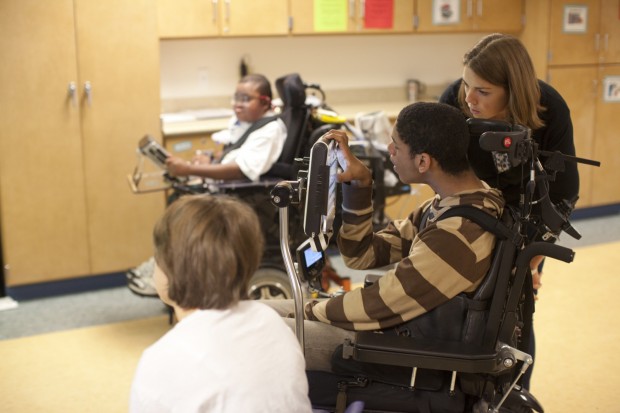 Students with limited ability to produce speech must have opportunities to learn alternative or augmentative communication strategies for effective interpersonal interaction. Augmentative communication is fundamental to service delivery for students of the Kennedy Day School, and plays an essential role in supporting student success throughout the curriculum. This multi-modal approach relates to expressive communication in speech and language, reading, and writing.
Using specialized resources and techniques, students work with members of a comprehensive, interdisciplinary team of clinicians to develop and refine the various elements of effective communication, including vocal approximations, facial expressions, body orientation, gestures, signs, and technology-aided expression. Students use auditory-visual-tactile symbols, pictures, and objects to represent a world of language concepts, words, actions, and ideas. Digitized and synthetic speech alternatives are explored, and specific consideration is given to each student's individual vision, hearing, and motor challenges. Music therapy techniques may be incorporated into the individualized approaches used with students.
More and more communication technologies offer portability, clear images and recognizable speech, and can be operated by the use of touch screens, scanners, or camera optic systems. With the escalating availability of information and curriculums in electronic formats, students are learning to access, communicate, and interact more independently and successfully in a broader array of enriching learning environments. Students benefit from this empowerment, even in everyday applications such as expressing their preference for banana yogurt at snack time, or remarking about an eagerly anticipated birthday party!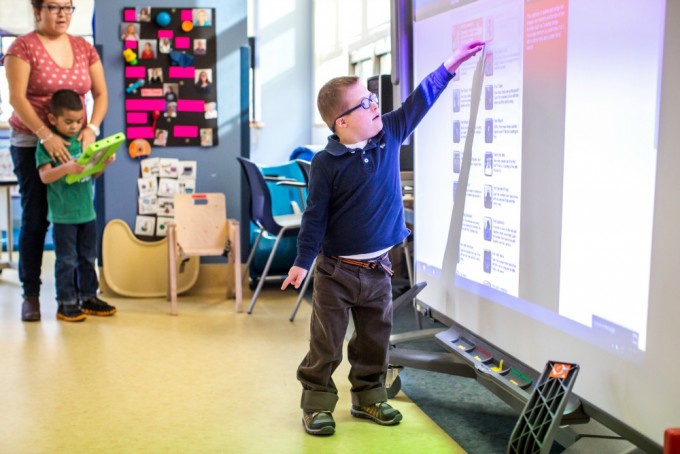 No two students are the same, so at the Kennedy Day School, special educators are learning detectives, using evidence-based practices to address accessible and invigorating content, and using methodologies that support success, self-direction and authentic interactive experiences.
The Kennedy Day School nurtures and challenges each student in order to promote active engagement in the adventure of learning. Meaningful links are forged between and among individualized student learning goals, curriculum content standards, and comprehensive assessment protocols, to optimize student learning outcomes.
Learning activities reflect all goals aspects of the educational plan, including therapeutic and health care components. Interactive SMART Board technology, augmentative communication resources, assistive technology, vision, hearing and mobility aids, and medical technologies are utilized throughout the learning environment.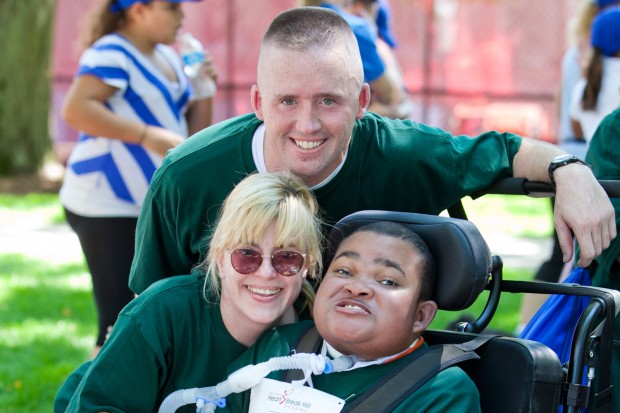 The Kennedy Day School welcomes families, and seeks to promote opportunities for collaboration and communication. Our Family Resource Coordinator focuses on family support.
Family Resource Service activities may include working with families to identify and facilitate access to local, state, and national resources and services related to public and private human service agencies, summer camps, after-school activities, recreation, personal care, home supports, housing, health care, respite services, guardianship, and transition to adult services, as well as inter-family networking and advocacy.
An interdisciplinary team of clinicians designs specific feeding programs to match each student's current skills and potential precautions, while setting and supporting goals for more effective oral food consumption, using textures, techniques, and tools to enhance the mealtime experience.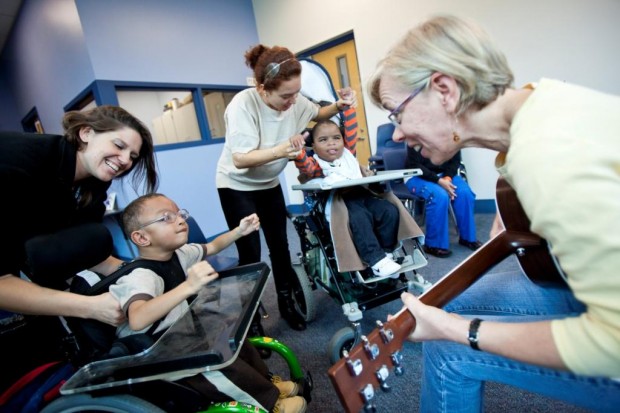 Music motivates and engages. Music Therapists include student responses in musical experiences that address the areas of communication, social, motor, and cognitive skills.
All students actively contribute to the creation of music within group or individual sessions. Together we sing, vocalize, play instruments, listen, and move. Special attention is given to the development of self-esteem, concept, expression, and creativity while interacting musically with others.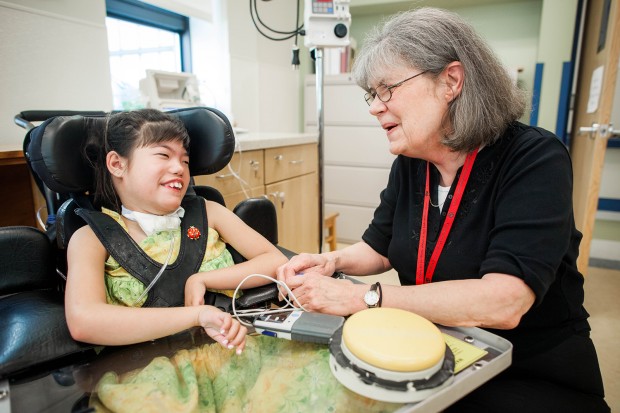 The Kennedy Day School nurses work closely with families and the educational team to meet the needs of students with a wide variety of health care needs, including those with complex, fragile health concerns. Nursing care, monitoring, and specialized staff training are provided according to each student's unique needs.
Kennedy Day School nurses also provide preventive health screenings, first aid and emergency care, and health care guidance to students and families. Our families have great confidence in the quality of health services, knowing that we are a part of Franciscan Children's, which offers the ultimate emergency care support and quality of available resources. Great care is taken to consider the essential role of the family in making ongoing decisions about health care provision and providers.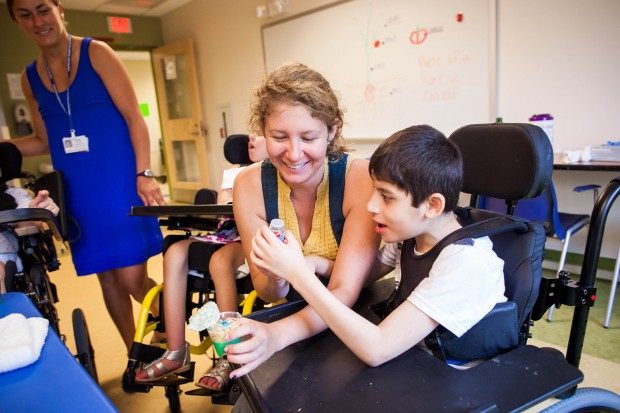 The profession of occupational therapy is concerned with a person's ability to participate in daily life activities, or "occupations." At the Kennedy Day School, our Occupational Therapists use their unique expertise to help children maximize their potential as students and contributing members of the school community.
Members of the educational team work to foster independence, and support a variety of child-centered outcomes, including self-help skills, functional motor skills, writing or typing, prevocational/vocational participation, environmental exploration, technology access, and more.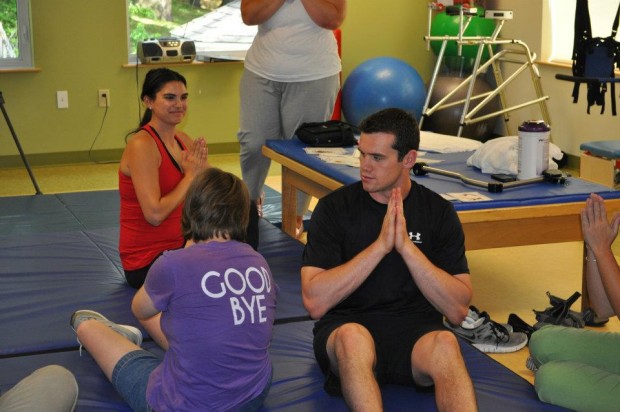 Our Physical Therapists work with families and the educational team to develop goals to address the various functional activities that help students access their education. Students are seen individually, in small group settings and through consultation. These sessions may focus on functional mobility, strength, endurance, positioning, the use of adaptive equipment, bracing, and environmental adaptations.
Physical Therapists work collaboratively with other special education and related service providers to support the carryover of skills across environments, with an effective balance of challenging levels throughout the day and week. A broad array of resources and equipment are employed to facilitate  meaningful, fun engagement and motivation.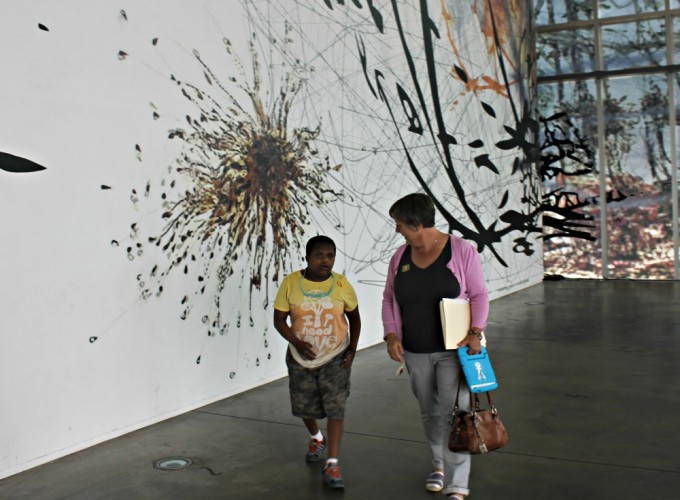 School Psychology services at the Kennedy Day School provide students, their families, and the educational team with ongoing consultation regarding behavior management, cognitive development, and mental health concerns. Individual and small group sessions, facilitated by the School Psychologist, aim to strengthen social skill acquisition while allowing students to develop a sense of individuality and belonging.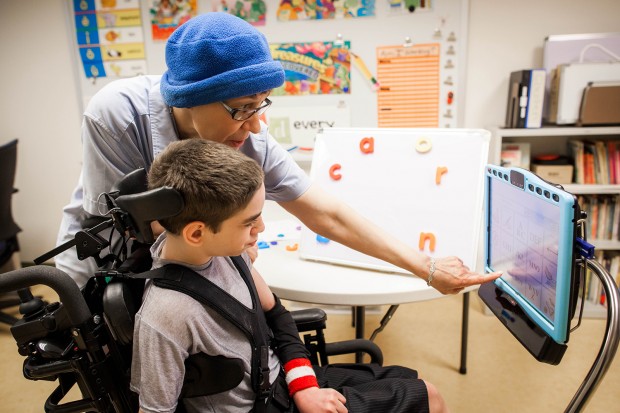 The Reading Specialist supports literacy enrichment activities in all classrooms, and contributes to clinical team efforts and activities to support learning in a cohesive and collaborative manner. Through consultation and direct service, the Reading Specialist provides expertise in the areas of reading skill assessment, development, and generalization. Reading Services may be provided on an individual and/or small group basis, and cover a broad range of skill levels and reading applications. Augmentative communication, assistive technology, and literacy aids are utilized to promote student success and satisfaction with a variety of media options.
In addition to the Reading Lab, Kennedy Day School students enjoy a warm and friendly school library and media center. Sophisticated technology and cozy reading corners co-exist comfortably. Resources include a broad array of electronic media formats with adaptive access, web-based curriculum materials, adapted books, story boxes and, of course, shelves filled with wonderful literature. A puppet playhouse and drama corner help bring stories to life, as students create and share their own stories, and enjoy opportunities to engage in numerous reading enrichment activities coordinated by the School Librarian.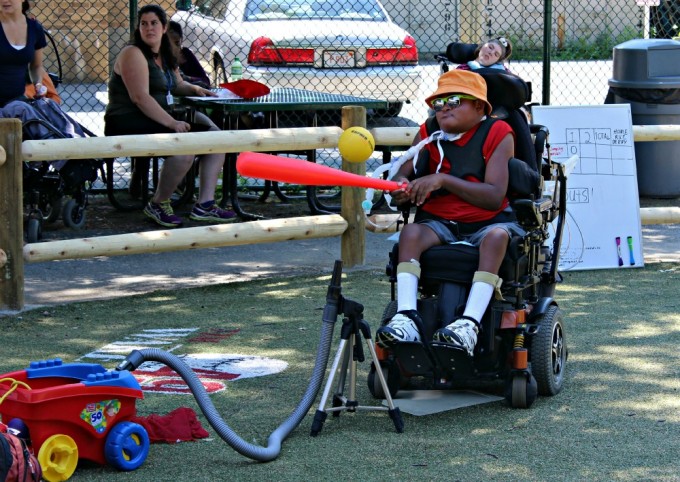 The Recreation Specialist coordinates recreation program services specific to the needs of the students of the Kennedy Day School. Current information regarding school and community-based recreation opportunities and resources are shared with families and special education service providers. This may include activities offered after-school, evenings, weekends, during traditional school vacation periods, and summer.
The Recreation Specialist plans and coordinates special events on and off campus, during standard school hours and beyond. Through guided participation in a broad spectrum of recreation and leisure pursuits, students gain confidence and independence when engaged in both singular and social activities. From adapted sports, to the arts, or an enchanting evening at the prom, the aim is fun and fulfillment for students and their families.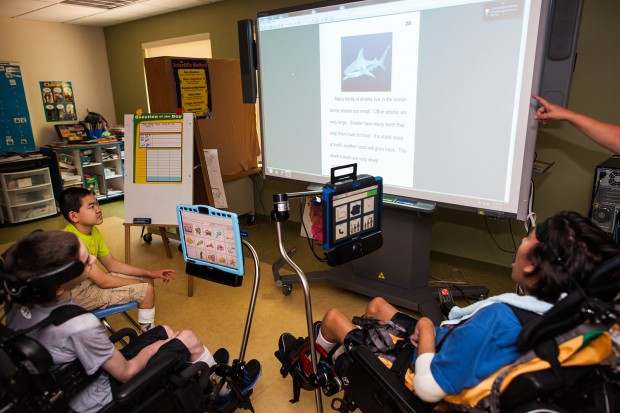 Speech-Language Therapy services are provided on an individual, group, and consultative basis to enhance a student's communication skills across all settings.
Therapy addresses receptive and expressive language skills, including social pragmatic abilities, speech production, and oral-motor/feeding skills. Augmentative communication strategies are utilized to help students access the curriculum, and maximize overall communication development.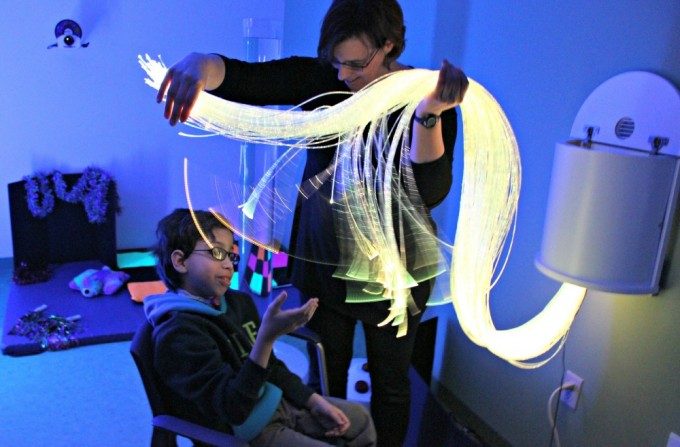 The Vision Specialist provides assessment and direct instruction to students who are blind or visually impaired, as well as training and consultation to the student's educational team and family.  Services include functional vision evaluations, learning media assessments, strategic instruction, and instructional material production and adaptation, including the use of Braille. A multi-faceted approach, specifically tailored to the needs of the individual, is reflected in all aspects of vision services.
To learn more about Vision Services at KDS, check out our blog post here.
The Kennedy Day School provides an array of vocational opportunities for students 14 years of age and older.
Realistic and positive learning experiences in a work environment are developed to meet the individual needs of each student in all areas of development.
Various opportunities for work are available to assist with developing and maintaining skills that are beneficial as students transition to adulthood.
For more information please contact Lynne Goyuk, our Educational
Admissions and Outreach Specialist, at 617-779-1113 or
lgoyuk@fhfc.org.
Contact Now