Volunteer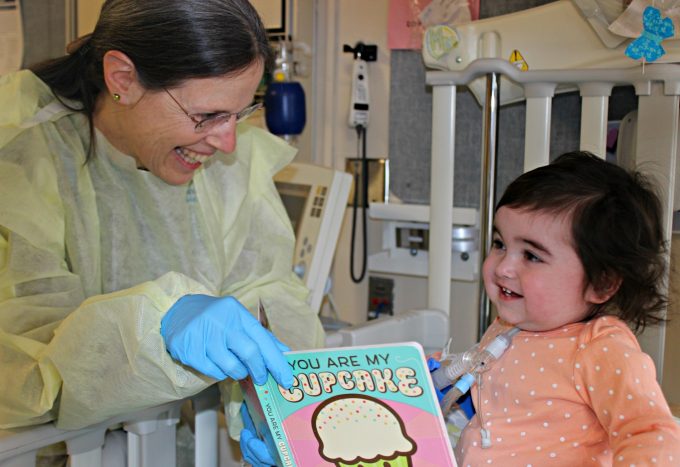 Our Volunteer Program at Franciscan Children's provides volunteers with the opportunity to truly make a difference and to be helping hands for our patients, students, families and staff. Whether you are playing games with children, cuddling infants in our medical rehabilitation programs, navigating visitors around campus, or giving parents a much-needed break, your generosity leaves a lasting impression on the Franciscan Children's community.
Each year, we welcome amazing individuals, groups and organizations who generously dedicate their time and energy to our mission. We are grateful for their contributions that enable us to provide excellent care and education for children and families. As a volunteer, our goal is to assist you in finding a placement at Franciscan Children's that best fits you!
Join our Volunteer Program in the convenient, accessible Brighton neighborhood of Boston. Learn how your talents can help… so every kid can!
Getting Started
Volunteers must be at least 18 years of age
Volunteers must meet hospital health requirements
Volunteers are required to commit to one shift per week and complete a minimum of 100 hours
If you are interested in finding out more about our available volunteer opportunities, please contact Ann Brady, Volunteer Program Manager, Monday through Friday from 9:30 a.m. to 3:30 p.m. by phone at 617-779-1156 or email at ABrady@FranciscanChildrens.org.
Complete Application Form (see "Apply now" section below)
Interview with Volunteer Services and Department Supervisor
Must receive Medical Clearance before starting
Required to Complete a Background Check
Complete Volunteer Orientation and Department Training
Resources
"This is a great job for anyone who loves to comfort and nurture kids and watch them overcome enormous hurdles to recover from serious medical challenges." – Ellen, Volunteer
"I have made so many positive relationships with the children, parents and staff.  It is a great feeling to walk into the [room] and have the children respond with smiles and hugs." – Alyson, Volunteer
Know what you want to get out of volunteering. You can volunteer in order to make a contribution, advance your career, meet new friends, gain recognition, or simply enjoy the personal satisfaction that comes from helping others.
Know the environment. At Franciscan Children's, our core values are compassion, excellence, and positivity. We want to provide our patients, families, and staff with an environment in which all children can reach their fullest potential and live their best life.
Be realistic and clear about your commitment. It is easier to start small and increase your commitment than to have to back out because your schedule is overwhelming.
Research our mission. Your role as a volunteer fits into our ability to provide a compassionate and positive environment for children with complex medical, mental health and educational needs. Sometimes what may seem like a small contribution to you makes all the difference to the people, department or program that you are assisting.
Think about your skills, interests, and life experiences. We are a unique organization, and all volunteer skill sets, experiences and contributions are valuable to our quality of care. We hope you can utilize and enhance your skills through volunteering with us.
Be honest about your desire for meaningful and satisfying work and the need to have acceptance and respect of the staff.
Be willing to accept and give feedback. We encourage our volunteers to offer suggestions and recommendations for improvement as we are committed to excellence and innovation for our patients, students and families.
Offer referrals. You can be an ambassador for Franciscan Children's in your community by spreading the word about who we are, who we serve and what we do.
Most important, HAVE FUN! Helping others is its own reward. Even a simple task is meaningful and makes an impact in the lives of the children and families that we serve.