Emma's Story
The future was bright for 17-year-old Emma, but under all the scrutiny and pressure of her senior year in high school, she was struggling. Her psychiatrist was trying to help her through the anxiety, sadness, and hopelessness she felt. The pressure of keeping her grades up at the private high school she attended, combined with the college search, became too much to handle.
A week before Thanksgiving, Emma finally broke down in
desperation.
A week before Thanksgiving, Emma finally broke down in desperation. She was angry, afraid, and confused. Her psychiatrist knew this was her breaking point and she needed more help, so he recommended that Emma's parents take her to the emergency room.
From the emergency room, she was transferred to the Inpatient Mental Health Program at Franciscan Children's. "I remember being terrified and admitted on a stretcher, feeling like I didn't belong there, Emma said.  "But Carolyn the nurse was kind and reassured me that it was okay to feel afraid."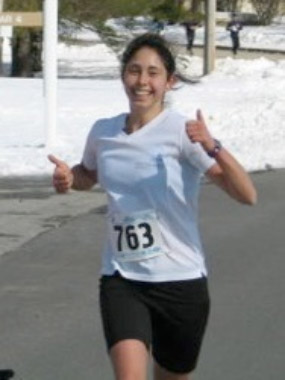 Over the course of that week, Emma found the routine of daily sessions and the rules of the program comforting. She returned promptly to school, keeping her stay a secret from most people, because she didn't want to answer questions or face the stigma of mental illness from her peers.
But it wasn't long before the same issues came up again. Just two months later, the anxiety became overwhelming, especially during the school day. With midterm exams coming up, she was also stressed, despite having just received her college acceptance into a prestigious school. When her psychiatrist suggested a second stay at Franciscan, she was apprehensive, because she didn't want to spend any more of her senior year in the hospital. "But once I actually got settled in, I began to appreciate what the doctors, nurses, and social workers on the unit were trying to do for me, and how much they obviously cared for each of us. It was at that point that I realized my doctor had made the right decision, and I was grateful to be there," she remembers.
During that stay, Emma embraced the process, using much of her time to write in a diary. Letters to her parents, brother, family members, and even her psychiatrist poured out. "Morning, noon and at night, we would all participate in a 'check-in,' which was a chance to tell the others in the program what we were thinking.  The questions that were asked made me assess myself; 'Who helped you today in some way?' and 'How can we help you feel better?' – hearing and then answering those questions gave me the sense that others were looking out for me, and that made me feel better."
After that stay, Emma couldn't hide the secret of her emotional struggles any longer. Her school told her peers she was away on medical leave and that left many questions that she needed to answer. "Many people emailed me to ask how I was doing, and to wish me a speedy recovery. A few of my peers asked specific questions or made comments to me once I was back at school. I'd just thank them for their concern, let them know I had some medical issues that needed attention, and told them that with the help of some great doctors I'm fine now."
Emma's stay helped her realize the importance
of asking for
help when she
needed it.
Emma's stay at Franciscan Children's helped her realize the importance of asking for help when she needed it, and made her open-minded and more appreciative of her freedom. This past summer, Emma volunteered at a nonprofit organization, and this fall she's headed off to college. She's realistic about the future and the pressures ahead, but this time, she's confident that she has the tools to deal with those moments. "Now I can think back and know that I got through it.  That helps me feel like I can handle whatever life has in store."
Want to share your story? Send it our way to stories@fhfc.org.
Explore All Stories