Our Blog
7 Tooth Brushing Tips for Children
Good habits are developed from an early age. Here are seven tooth brushing tips for children from our Pediatric Dentistry staff to help parents make good dental hygiene fun and easy!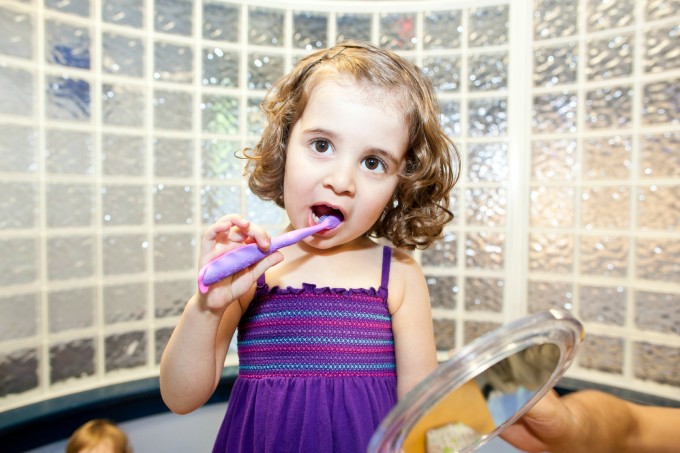 1. Start Early
The American Academy of Pediatric Dentistry recommends starting brushing at 6 months or when the first tooth sprouts. Brushing should be performed or assisted by parents until the child is 8 years old.  Flossing should be assisted until the child is 10 years old.
2. Make a BIG deal about the toothbrush
Let them pick out a toothbrush with a cartoon character such as Dora or Sponge Bob.  Toothbrushes that play music or light up are exciting.  A small head, soft-bristle brush is recommended.
3. Toothpaste with Taste
Trial several fun flavors of toothpaste and allow the child to choose a flavor they enjoy.  A "smear" of fluoridated toothpaste for children under 2 years old and a "pea-sized" amount for children 2 to 5 years of age is recommended.
4. Follow Me
Children have a natural tendency to copy the behavior of a parent or an older sibling.  Spend time brushing your teeth with them, especially before bedtime, for 2 minutes.  Let them see you brush and even let them brush your teeth for you.
5. Pair brushing with fun
Play music or a video on an iPod or iPad for 2 minutes while they are brushing.  Create a tooth brushing chart and color the chart or place stickers after the child is done brushing.  Develop a routine:  first brush, then give hugs to everyone and finally read a bedtime story.
6. Read books about brushing
Age appropriate books about brushing help children understand why brushing is so important.  Typically, they can relate to the characters in the story.
7. Reward
When all else fails….reward!!  Giving an extra 10 minutes playing a video game or watching television after they have brushed their teeth can be a great reward.
View All Blog Stories