Our Blog
Pokémon Go: Tips for Parents
Dr. Fatima Watt is a Pediatric Psychologist in the Behavioral Health Services department at Franciscan Children's. To learn more about the Behavioral Health programs offered at Franciscan Children's, please click here or email us at info@franciscanchildrens.org.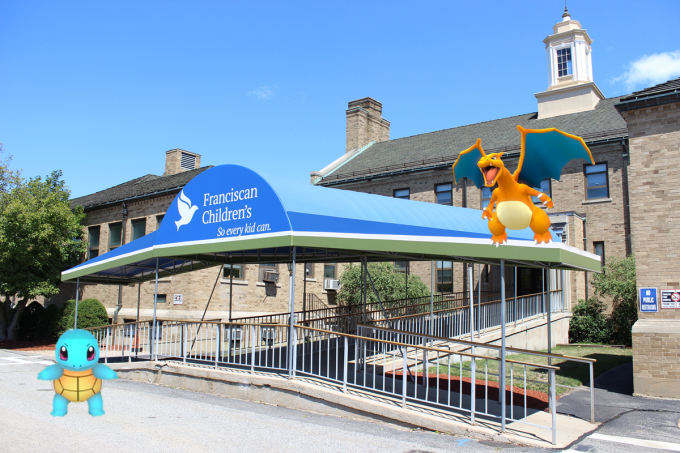 In a world dominated by technology, "screen time" and "parental controls" are hot topics in most family households. Some days it seems that social media has taken over face-to-face interactions, and virtual gaming has become more popular than heading outside for a friendly neighborhood game of Wiffle ball. Of course, not all technology is bad technology, but it can feel overwhelming to stay up-to-date on what's popular and how we can teach our children to safely participate.
By now, you've likely heard of Pokémon Go – the augmented-reality gaming app that has captured the hearts (and screens) of children and adults alike. As a "Pokémon trainer" within the game, your job is to find, capture, train, and battle Pokémon characters. The app uses the GPS location and video features on your phone to immerse you into the game, so you can see what's around you via your screen, but also see virtual Pokémon characters in front of you.
Pokémon Go has quickly become a big part of popular culture. Released less than two weeks ago, it is currently the top downloaded free app in both the Apple and Android stores. As you go about your day, look around you. You'll likely see people completely absorbed in their phones, focused on capturing their next Pokémon.
So, what does this virtual phenomenon mean for parents? We've compiled a few tips to help you navigate this new Pokémon world.
Do your homework
It's important to always be aware of the apps and games your children are using via their devices. Read articles, talk to other parents, and maybe even try the app for yourself to get a better sense for what they do and how they work.
Talk to your kids
Talk with your children about Pokémon Go – ask them how they feel about it, if they use it, etc. Chances are, it's already popular within their group of friends. By starting a conversation, not only are you likely educating yourself about the details of the game, but you're also learning about your child's potential use and/or knowledge of the game. Inviting them to share their feelings and respecting them can make it much easier to voice your own concerns when it comes to ensuring their safety.
Encourage safe use
Speaking of safety, there are a few key reminders to bring up during your conversation(s):
Be aware of your surroundings. With gameplay taking place all around you using your GPS location, Pokémon Go literally requires you to move around in order to be successful in capturing characters. Look up from your device/game often so that you're not walking into a busy street or intersection, or walking into a tree or another person. Younger children should be accompanied by an adult at all times when in the community searching for Pokémon.
Be wary of strangers. There is a social component to Pokémon Go, and players will often meet other players in real life, at actual locations. While many of the other gamers you may come across are simply other enthusiastic fans, be aware that they are still strangers and may not have your best interest at heart. It's best to play with a group of friends or under the supervision of an adult.
Never play and drive. If your child is of driving age, it's a good idea to remind them that using a mobile device while driving is very dangerous and illegal. Put your phone away while you're at the wheel.
Make Game Time Family Time
Placing limitations on your child's screen time can be difficult (and a headache). When possible, shift gears and make screen time an opportunity for family time, too! Where many games and apps are criticized for encouraging kids to be lazy, a lot of parents are excited to see that Pokémon Go is getting them off the couch and outside. Use the game as a draw to go for a walk together, take a trip to the local park, or even as incentive to accompany you on typically-dreaded errands like the grocery store! You never know where you might find your next Pokémon waiting to be captured.
For more information, we found the articles below to be informative and helpful.
Tell us!
What Pokémon Go tips have you found helpful for parents?
How has your family embraced Pokémon Go?
View All Blog Stories