Our Blog
Bike Helmet Safety
Carrie Barlow is a licensed Physical Therapist, Board Certified Pediatric Specialist, and Director of the Physical Therapy and Occupational Therapy programs at Franciscan Hospital for Children. If you have bike safety related questions, please email us at info@fhfc.org or call (617) 254-3800, ext. 2180.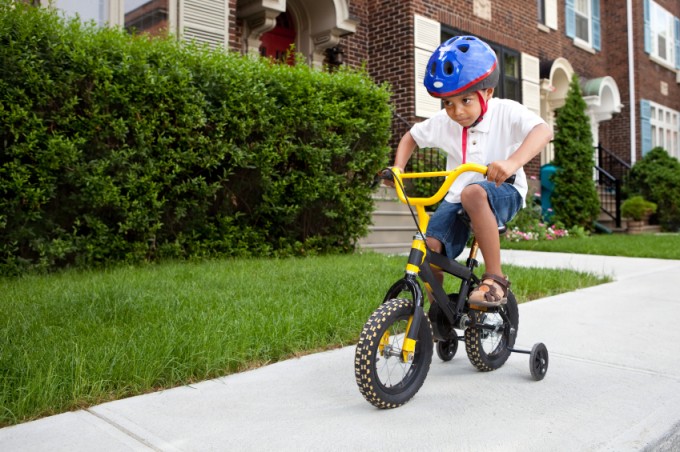 Everyone knows the saying "An ounce of prevention is worth a pound of cure."  Well now that the weather is warming up and we all want to play outside – I've got a great prevention tip.
Wear a bike helmet!
Did you know that 85% of head injuries due to bike accidents could have been prevented with the use of a helmet?
Some things to think about:
Find a Safe Product: If the box says "bike helmet" and/or there's a sticker on the inside of the helmet from the CPCS (Consumer Product Safety Commission), you know the helmet has been crash tested and is safe.  You can spend more or less money on style or brands, but all new bike helmets will protect your child's head equally.
Buy New: Don't buy a helmet secondhand or used.  Like car seats, if you don't know the history, it might not be safe.  You want to be sure you are getting the most protection you can.
Be a Role Model: Our kids watch us and learn from what we do.  Make sure you have a helmet on too.  Not only will you set a good example for your kids, but you will keep your head safe.
Fit is Key:  The helmet should cover part of your forehead and be snug but not tight. Try this test – strap the helmet on and vigorously shake your head "yes" and "no."  If the helmet doesn't wiggle, it's a good fit! This video also has some tips for fitting a helmet to a child.
Happy Riding!
View All Blog Stories